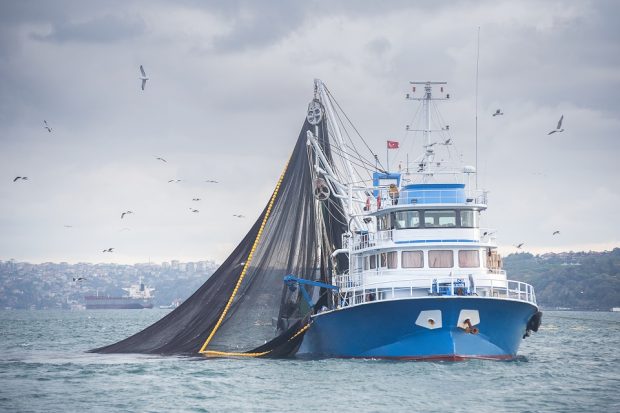 On Sunday (3rd January), the Prime Minister was interviewed on the Andrew Marr show. Discussing the benefits and opportunities that becoming an independent coastal State has to offer, the Prime Minister highlighted the freedom available to now manage our own fisheries, including ending the practice of pulse fishing and the potential to regulate the activity of large vessels sometimes referred to as 'supertrawlers'. Coverage of the Prime Minister's comments are carried across several titles such as Sun, The Times, Daily Express, BBC and Brinkwire.
The Government took action to end the practice of pulse trawling by EU and English-registered vessels in February 2019 which took effect at the end of the transition period. Pulse trawling is a controversial fishing method that uses electrical signals to drive flat fish, such as sole, from the seabed into nets. It was banned by the EU in 1998, but has been allowed under an EU derogation since 2006. While pulse fishing by UK or EU vessels did not take place in the UK's territorial waters (0-12nm zone), over 80 Dutch vessels previously held permissions to use this method of fishing in certain parts of the southern North Sea, including in UK waters outside the 12-mile zone.
The Marine Management Organisation (MMO) monitors fishing vessels, including large trawlers, when fishing in English waters. Supertrawlers are pelagic trawlers whose nets do not touch the seabed, so generally don't cause damage to seabed features. The MMO tracks the movement of all fishing vessels 24 hours a day through satellite technology, aerial surveillance, and coordinates intelligence from third-party sources – detecting where and when illegal and damaging activity is suspected.
Now that we are an independent coastal State, the UK has the powers to decide which vessels can access and fish in our waters. Through the landmark Fisheries Act, the UK has now legislated into law the commitment to greater protections of our marine environment. As a global leader in marine protection, the UK government is committed to achieving a clean, healthy and safe marine environment for all marine users as well as supporting a sustainable fishing industry.
A Defra spokesperson said:
As an independent coastal state we can now review which vessels, including supertrawlers, can access and fish our waters.

The new licensing framework within the Fisheries Act will allow us to apply conditions to the activities of all fishing vessels in our waters - regardless of their nationality – and will need to abide by UK rules around sustainability and access to our 'Blue Belt' of protected waters.
The Government has significantly increased the number of personnel and surveillance assets dedicated to fisheries protection. This strong presence will deter against fisheries infringements, while also enabling our agencies to take robust action where they may occur.