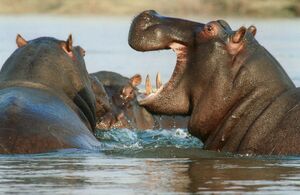 There has been coverage today in BBC News, Guardian, Sky News, the Independent and the Evening Standard of our announcement that five new species are set to be protected under the Ivory Act extension.
Hippopotamus, walrus, narwhal, killer whale (orca) and sperm whale are set to receive greater legal protections under the UK's world-leading ban on importing, exporting and dealing in items containing ivory.
BBC Breakfast filmed a live package with Naturalist Steve Backshall MBE and Border Force at Heathrow's 'Dead Shed' and BBC Radio 4 Today Programme covered the announcement in the news bulletins.
Hippopotamus is the species most at risk from the trade in its ivory after elephants. The other species are already threatened by climate change, and the continuing trade in their ivory may exacerbate these threats and make their long-term survival less likely.
The Ivory Act is one of the toughest bans on elephant ivory sales in the world, with some of the strongest enforcement measures. Those found guilty of breaching the ban face tough penalties including an unlimited fine or up to five years in jail.
Biodiversity Minister Trudy Harrison said:
This is a pivotal moment in delivering one of our key manifesto commitments on international conservation.

The Ivory Act is one of the toughest bans of its kind in the world and by extending greater legal protections to five more species, we are sending a clear message the commercial trade of ivory is totally unacceptable.

The UK has long led the way in conservation and our ban shows continued global leadership in doing all we can to protect the world's most endangered species.
Steve Backshall MBE said:
This is an important moment in the conservation of these iconic species.

There is widespread public support for the Ivory ban and today by extending it further we are sending a clear message that there is no place in the UK for this vile trade.
Since 6 June 2022, there has been over 6,500 registrations and certificates issued for exempted items so that they continue to form part of our artistic and cultural heritage. Owners can use our online service to register an ivory item or apply for an exemption certificate to deal in ivory.