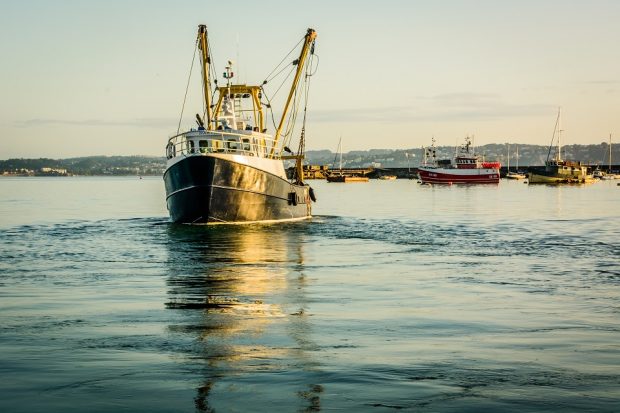 There has been recent media coverage of the frequency of at sea inspections of fishing vessels since the end of the transition period.
The Marine Management Organisation (MMO) monitors, controls and enforces fishing regulations in English waters. The MMO takes a robust intelligence-led approach to enforcement action against illegal fishing. Although boarding vessels for inspection while at sea was reduced during January and February due to the national lockdown and Covid-19 safety measures, the MMO maintained its usual physical presence at sea and continued to inspect vessels in port.
At-sea inspections are just one tool to combat illegal fishing activity. Four offshore vessels continued to patrol throughout January and February. Other surveillance operations, including aerial and radar surveillance and electronic monitoring systems, continued 24/7 as normal to detect and deter illegal activity at sea and enforce where necessary.
This month, the MMO has carried out 41 inspections so far, 15 of these were UK vessels and 26 were EU vessels, and continues to operate as fully as possible while observing current Government guidance to help prevent the spread of Covid-19.
While inspections help the MMO gather important data that could lead to prosecution, such as incorrect mesh sizes, undersized species, or undeclared catch, they are not the means by which the government acquires data on what is being fished where and when. This information comes from fishing catch, landing and sales records that all fishing vessels and merchants are legally required to supply.
A Defra spokesperson said:
The Marine Management Organisation (MMO) monitors, controls and enforces fishing regulations in English waters – taking robust, intelligence-led enforcement against illegal fishing.

A physical presence at sea was maintained throughout the lockdown, with four patrol vessels operational offshore to detect and deter illegal activity - and boarding and inspecting of vessels at sea has now recommenced.
The MMO works closely with partners including the devolved fisheries administrations, Inshore Fisheries Conservation Authorities and the Joint Maritime Information Centre to ensure a coordinated approach to control and enforcement across UK waters. This sophisticated intelligence network is operational 24 hours a day, seven days a week.
We have invested £32 million to bolster assets and mitigate fisheries risk since the end of the Transition Period. Whilst the UK currently has access to data for monitoring, control and enforcement purposes, additionally, we are engaged in ongoing technical conversations with the European Commission to establish a mechanism to allow comprehensive sharing of data moving forward – a framework for which is provided by the UK-EU Trade and Cooperation Agreement.
You can read more about the Marine Management Organisation's enforcement operations on their blog.