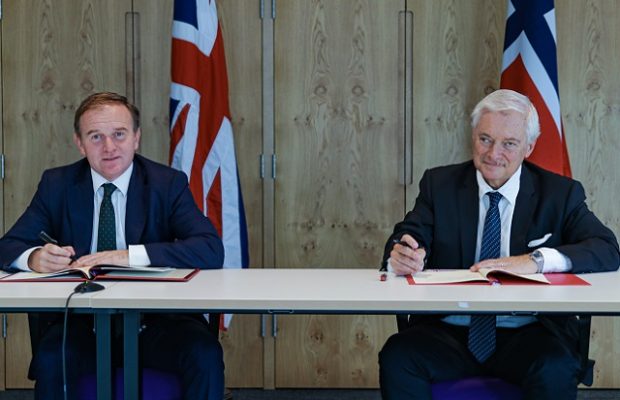 There has been widespread positive coverage of yesterday's announcement of the historic UK-Norway Fisheries Framework Agreement, signed yesterday by Environment Secretary, George Eustice and the Norwegian Ambassador to the UK, Wegger Strømmen.
National and regional coverage has appeared in the Independent, p.21, Telegraph, Express, Undercurrent News, Shetland News, Press & Journal, and Yorkshire Post. Furthermore, two opinion pieces have been published in The Telegraph by Environment Secretary, George Eustice; and in the Press and Journal (p.31) by Fisheries Minister Victoria Prentis, to further explore the vision for the future of our fisheries.
Yesterday, the Environment Secretary discussed the highlights of the agreement with BBC Look East, BBC Radio Norfolk, BBC Radio Humberside, BBC Look North, and ITV West Country, with further broadcast coverage in Today Programme with a contribution from the Norwegian Fisheries Minister, Odd Emil Ingebrigtsen; and Farming Today, with Scottish Fishermen's Chief, Elspeth Macdonald.
The fisheries agreement with Norway, the UK's first since leaving the EU and first as an independent coastal state in 40 years, is a significant step forward as the UK prepares to leave the EU's Common Fisheries Policy at the end of December. Leaving the EU means the UK is able to decide who can access its waters and on what terms, in the best interest of its marine environment and its seafood and fishing sectors.
The agreement demonstrates the shared will of the UK and Norway to cooperate as independent coastal states and seek effective and sustainable management of their fisheries. The treaty incorporates the same principles that the UK is currently seeking with the EU – a framework agreement which reflects the UK's and Norway's rights under international law.
Environment Secretary George Eustice said:
I am delighted that a Framework Fisheries Agreement with Norway has been successfully secured. The agreement is testament to our commitment to acting as a cooperative independent coastal state, seeking to ensure a sustainable and a prosperous future for the whole of the UK fishing industry.

I pay tribute to our Norwegian counterparts for the constructive approach they adopted throughout these negotiations, and we look forward to working with them closely in the coming years.
Norwegian Fisheries and Seafood Minister Odd Emil Ingebrigtsen said:
This is a great day! I am pleased that we have reached an agreement with the United Kingdom, which will be an important coastal state and partner from January 2021.

This agreement facilitates a good and solid fisheries cooperation for the future. The management of shared fish stocks is at its best when the coastal states agree on how this should happen.
For more information on the announcement please follow this link.