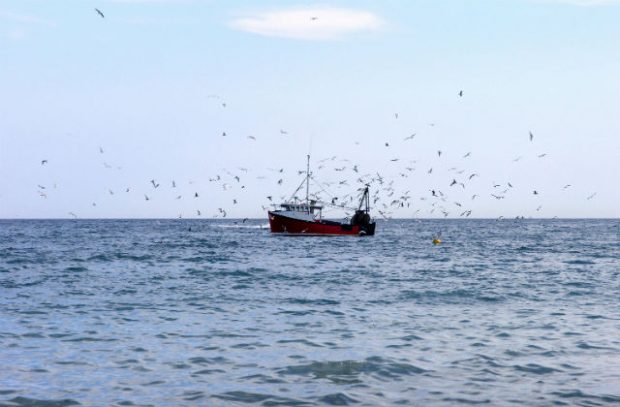 There is coverage in The Times, Daily Telegraph, Yorkshire Post, The Herald and Channel 4 News (00:48) of the ongoing Greenpeace action at Dogger Bank Special Area of Conservation (SAC), where yesterday Greenpeace announced that they have sunk granite boulders around the shallow waters of the Marine Protected Area (MPA) to stop bottom trawling vessels entering the area.
Greenpeace claim that they have observed bottom trawlers breaking the law by switching off their AIS (automatic tracking systems) while fishing in the Marine Protected Area. They suggest that the MPA is not properly protected and that they will continue to take action until the UK Government takes action to protect the site.
The Marine Management Organisation (MMO) tracks the movement of all fishing vessels over 12m in English waters, 24 hours a day, through satellite technology. It also deploys aerial surveillance, and coordinates intelligence from third party sources – detecting where and when illegal fishing is suspected.
While the MMO is unable to comment on specific allegations of offending it can confirm that action would always be taken where there was sufficient evidence to suggest any prohibited fishing activity was taking place within an Special Area of Conservation (SAC). It has also has confirmed that breaches of marine legislation are being investigated in regard to the laying of boulders in the Dogger Bank SAC.
A government spokesperson said:
We are committed to bolstering the health of our precious Marine Protected Areas, which is why we have already put in place a 'Blue Belt' of protected waters nearly twice the size of England and will go even further following the end of the Transition Period

We believe a tailored approach for each MPA will allow us to achieve our ambitious conservation aims, whilst allowing our vital fishing industry to thrive.
At present, the Common Fisheries Policy (CFP) makes it difficult to introduce measures in offshore Marine Protected Areas (such as Dogger Bank SAC) as they require the agreement of EU Member States. Our Fisheries Bill contains a new power enabling the MMO to implement and enforce management measures within our Marine Protected Areas and across English waters once we leave the CFP. The Bill will also prohibit any commercial fishing vessel (UK or foreign registered) from operating in UK waters without a licence.
It is also reported that the Executive Director of the Blue Marine Foundation, Charles Clover, has written to Fisheries Minister, Victoria Prentis, informing of the organisation's intention to seek a judicial review unless the Government strengthen protection measures in Marine Protected areas from 1 January 2021.
We are prioritising the Marine Protected Areas most at risk and aim to make rapid progress with management measures as soon as the transition period ends.