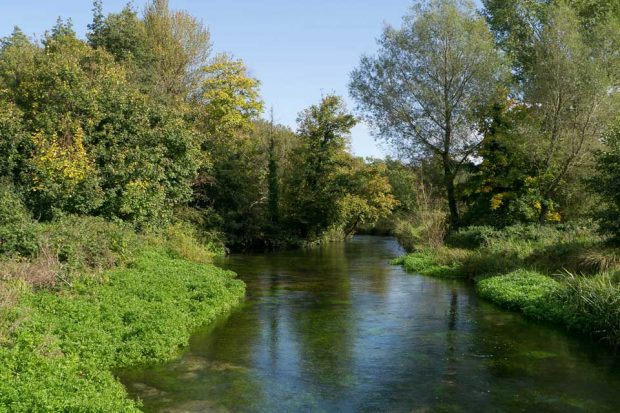 There is widespread print and online coverage today of the latest water classification results, published yesterday by the Environment Agency, including pieces in the Financial Times, Telegraph, Times, Guardian, Independent, Daily Express, i News, Sky News and Yorkshire Post.
The data, which tested surface waters and groundwaters across England from 2016 - 2019, shows that water quality has remained static and is a long way from the government's ambitions.
Just 16% of our waters (14% of rivers) meet the criteria for 'good ecological status', the same percentage as in 2016.  As population growth, land use and climate change are having a significant impact on our water environment, the data shows we are running to stand still.
The results also reflect a change in the methods used to classify English water bodies to more accurately report the presence of certain chemicals that do not break down easily in the environment.
This explains why the results show that no surface water bodies have met the criteria for achieving 'good chemical status' , compared to 97% in 2016 before we had these new monitoring techniques. It means we now have a more accurate picture of what is there.
We are committed to being transparent with this data. The more people understand what is in rivers, the easier it is to work together to improve it.  Working with our partners, we now know more about the water environment than ever before and we are using this evidence to direct the actions we take.
Collective action is needed from the government, water companies, farmers, businesses and the general public to improve things.
We are working hard, and will continue to work hard, to deliver change. Some of the actions we are taking are:
Ambitious water quality objectives in our 25 Year Environment Plan to improve at least three quarters of our waters, returning them to their natural state.
New proposed legally-binding targets focusing on the most significant pressures and pollutants impacting the water environment in the Environment Bill.
Reforming our approach to agriculture, including work with industry to reduce pollution, through advice-led programmes and other incentives to curb harmful practices.
Setting up a Storm Overflows Taskforce led by Defra, the EA, Ofwat and Water UK to drive the reduction of spills from storm overflows.
Developing a new Chemicals Framework, built on a robust statutory REACH chemicals regime, as well as delivering reductions in key industrial pollutants.
Reviewing abstraction licences and reducing the amount of water people can take, returning 16 billion litres of water to chalk streams since 2008.
The 2015 river basin management plans confirmed £3 billion of investment over the period to 2021, towards a predicted 8,600km of surface water being enhanced by 2021.The draft river basin management plans, reflecting on the 2019 classification data, will be published in summer 2021 to identify where additional action is needed.
Billions of pounds of additional investments in water company business plans – since privatisation of the water industry, around £25 billion has been invested to reduce pollution from sewage, covering improvements in sewage treatment and in sewer overflows. This investment has secured significant environmental benefits.
Environment Agency Chair Emma Howard Boyd said:
Water quality has plateaued since 2016, which isn't good enough. There have been improvements over the last 25 years, for example waste water treatment works put 60% less phosphate and 70% less ammonia into the water environment than they did in 1995, but the general upward trend has not continued.

The 25 Year Environment Plan aims for at least three quarters of our waters to be close to their natural state, but today just 14% of our rivers are. To get where we want to be everyone needs to improve how they use water now and that means water companies, farmers and the public.
Environment Minister Rebecca Pow said:
We need to go further and faster on reducing the environmental impact from storm overflows and other sources of pollution including chemicals and agriculture.

More needs to be done urgently, and I met with water companies earlier this month to set out the high expectations this government has for our water environment, including in particular chalk streams.

These results show we have a long way to go, with a new way of testing for chemicals more accurately reflecting what is in our water environment. While it's not comfortable reading, this will allow us to plan more effectively to tackle the scourge of pollution.

We are absolutely committed to achieving the water quality ambitions in our 25 Year Environment Plan to improve at least three quarters of our waters to be as close to their natural state as soon as possible.