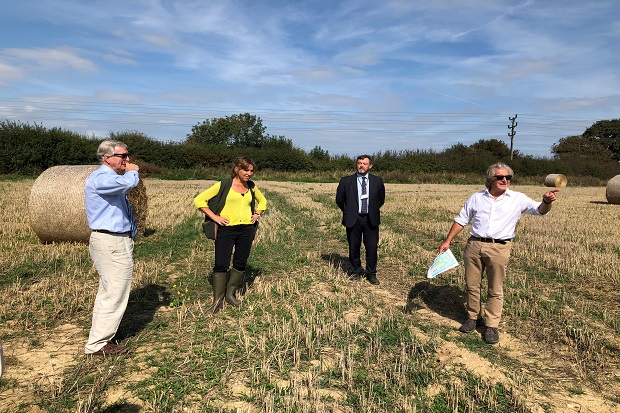 Yesterday (10 September) Environment Minister Rebecca Pow and Natural England Chair Tony Juniper visited Warblington Farm in Havant, to launch a trailblazing scheme backed by £3.9 million of government funding that will reduce harmful nitrates and aid wildlife recovery.
The Minster was interviewed by Farming Today where she highlighted the benefits of the pilot scheme which, if successful, could see similar measures rolled out elsewhere across the country in years to come. The story was also covered by Portsmouth News online.
Housing growth has stalled in the Solent area for over a year due to concerns that nitrates were causing a range of negative environmental effects. These include excessive growth of green algae which smothers and damages rare habitats and wildlife.
The £3.9 million will be used to set up an online 'nitrate trading' auction platform. Through this, housing developers will buy credits to create new habitats to prevent harmful levels of nitrates from new housing from reaching the Solent's rare wildlife and habitats.
Speaking on the visit, Environment Minister Rebecca Pow said:
I am thrilled to announce this funding which uses nature-based solutions to alleviate the housing pressure in the local area. Not only will this innovative scheme unlock thousands of much-needed homes for the local area, but it will provide habitat rich areas for wildlife in a true win-win.

As the nation recovers from coronavirus, it's more vital than ever that we build back greener, and this project will also help people connect with nature by providing more green spaces for them to enjoy.
The nitrate trading platform pilot will be rolled out over the next two years and delivered jointly with the Ministry for Housing, Communities and Local Government; Natural England; and the Environment Agency.
Natural England played a key role in providing expert advice for the innovative scheme, including helping to select suitable sites to create new areas for habitat creation.
Natural England Chair Tony Juniper added:
This is a beautiful part of Hampshire, rich with wetlands, coastal inlets and shingle beaches, and it's no wonder that more people wish to live in the area, creating demand for new homes. More people does, however, mean more nitrogen getting into the environment, and this is causing the growth of green algae 'mats' in the Solent, affecting protected habitats and wildlife along the south coast.

This innovative new scheme that Natural England has helped design will not only help nature's recovery in the area, but also address the historic demand for new housing around the Solent.
The launch yesterday builds on the government's landmark Environment Bill which will tackle the biggest environmental priorities of our time, including introducing biodiversity net gain, which will ensure that the new houses we build are delivered in a way which protects and enhances nature.
Follow Defra on Twitter, and sign up for email alerts here.