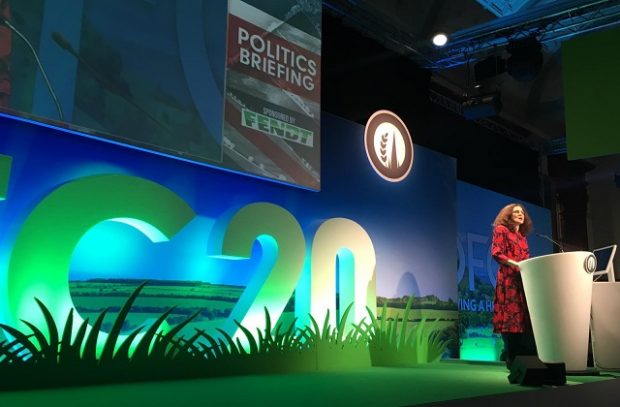 There has been widespread coverage of today's Oxford Farming Conference, where Environment Secretary Theresa Villiers delivered a speech outlining the government's vision for future farming.
While there, the Environment Secretary pledged to introduce the government's landmark Agriculture Bill this month to Parliament, which will allow the UK to take a new approach where farmers and land managers are rewarded with public money for 'public goods' – such as enhancing biodiversity, tackling climate change and raising standards of animal welfare.
It follows a press release issued this morning, with coverage in The Daily Telegraph, The Guardian, The I, The Yorkshire Post, Farming UK, Farmers Weekly and Farmers Guardian.
The government's future farming plan is one of the most significant farm environmental reforms in this country in 40 years and is an opportunity for the UK to deliver more sustainably productive farms and more resilient and successful farming businesses, whilst simultaneously protecting nature and tackling climate change.
In her speech, the Environment Secretary urged farmers to seize the opportunities to rethink agricultural policy and to be bold and innovative in the proposals they put forward.
Environment Secretary Theresa Villiers said:
"We want our new scheme to deliver value for money as well as boosting sustainable productivity to support farmers in their hugely important task of feeding the nation.
"And, as we've heard again reiterated strongly this morning, farmers have said that they are up for the challenge … that given the right support and opportunities, they can step up the role they play in protecting our environment.
"The process on which we are about to embark will, I hope, provide an example to others around the world of what can be achieved if we rethink how we manage the land and produce food."
You can read the Environment Secretary's full speech from the Oxford Farming Conference here.
You can also watch the Environment Secretary's full speech from the Oxford Farming Conference here.