Environment Secretary welcomes results of supermarket Iceland's bottle return scheme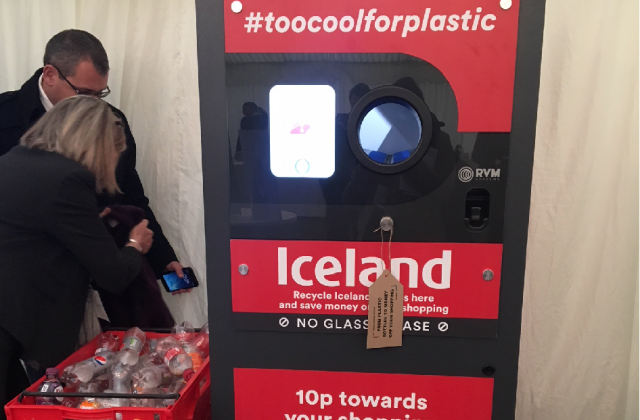 There is coverage in The Daily Mail, The Independent, The Guardian, The Times, and on Sky News online, of supermarket Iceland's trial deposit return scheme for plastic bottles.
Coverage reports the scheme has been popular with customers, with over 300,000 plastic bottles returned to stores, and Environment Secretary Michael Gove took to twitter to welcome the early results.
However, The Daily Mail's Robert Hardman says the Government 'needs to take a lead' for the scheme to be successful across the country.
The Government has already announced plans for a deposit return scheme for single use drinks containers to crack down on plastic pollution.We will be consulting on a DRS scheme within the coming weeks.
A Defra spokesperson said:
We are going further and faster to reuse and recycle with our landmark Resources and Waste strategy. Consulting on a deposit return scheme is a part of that strategy and will ensure we get this scheme right long term.

But we welcome the efforts by Iceland and other organisations to tackle this issue, as we can all play a role in eliminating plastic waste.
In July, Ministers from the UK Government and devolved administrations in Scotland, Wales and Northern Ireland met to agree to a set of principles and common objectives, which provides the basis for further work around the potential for deeper co-operation on the design and operation of a deposit return scheme across the UK.
The UK is making great strides to tackle the plastic that blights our streets, rivers and oceans – protecting wildlife from ingesting harmful plastic with our world-leading ban on microbeads in rinse-off personal care products, and introducing a highly successful plastic bag charge which has seen over 15 billion plastic bags taken out of circulation in the last two years alone.
The Government has also launched a consultation to extend the plastic bag charge to all retailers, and consulted on banning the sale of straws, plastic-stemmed cotton buds and stirrers.
In the Autumn Budget 2018 the Chancellor announced a world-leading brand new tax on plastic packaging for businesses producing or importing plastic packaging which doesn't meet a minimum threshold of at least 30% recycled content, subject to consultation, from April 2022. This will address the current issue of it often being cheaper to use new, non-recycled plastic material despite its greater environmental impact.