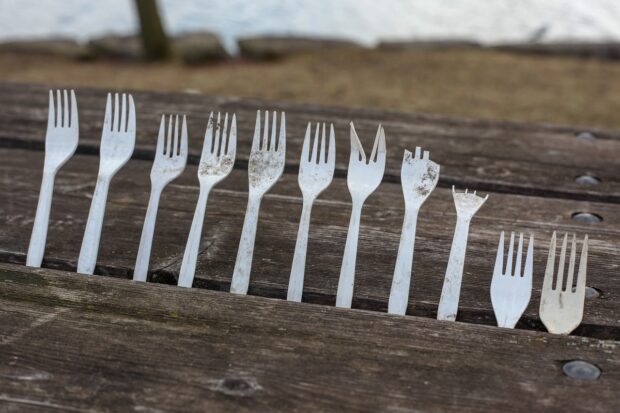 Bans and restrictions on a range of polluting single-use plastic items came into force on Sunday 1 October. Single-use plastic cutlery, balloon sticks and polystyrene cups and food containers can now no longer be sold in England, and the supply of single-use plastic plates, trays and bowls has also been restricted.
There has been widespread national coverage of the restrictions, including on the Today Programme, Good Morning Britain, BBC Online, Sky News, ITV News, the Telegraph, I News, the Independent, the Daily Mail, and the Mirror, as well as in trade and regional media.
Research shows people across England use 2.7 billion items of mostly plastic single-use cutlery and 721 million single-use plates every year, but only 10% of these are recycled. If 2.7 billion pieces of cutlery were lined up, they would go round the world more than eight-and-a-half times.
Environment Minister Rebecca Pow said:
This new ban is the next big step in our mission to crack down on harmful plastic waste. It will protect the environment and help to cut litter – stopping plastic pollution dirtying our streets and threatening our wildlife.

This builds on world-leading bans on straws, stirrers and cotton buds, our single-use carrier bag charge and our plastic packaging tax, helping us on our journey to eliminate all avoidable plastic waste by 2042.
The single-use plastics ban is part of the Government's wider world-leading action to tackle the scourge of plastic pollution and eliminate all avoidable plastic waste by 2042. The Government has already banned microbeads in rinse-off personal care products in 2018 and restricted the supply of plastic straws, stirrers and cotton buds in 2020.
The Government also introduced the Plastic Packaging Tax in April 2022, a tax of more than £200 per tonne on plastic packaging manufactured in or imported to the UK that does not contain at least 30% recycled plastic.
Elsewhere, the Government's hugely successful single-use carrier bag charge has cut sales in the main supermarkets by more than 98% since its introduction in 2015, taking billions of bags out of circulation.