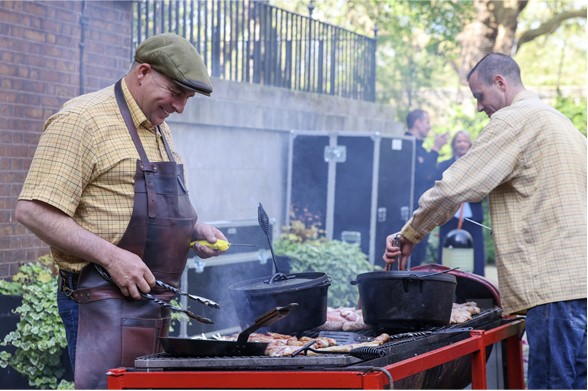 There has been widespread coverage, including in The Daily Mail, The Independent and The Daily Telegraph, following the UK Farm to Fork Summit hosted by the Prime Minister Rishi Sunak at Downing Street yesterday (16 May). The event was also covered by BBC News, Farmers Weekly, The Grocer and other regional and trade media.
For the summit, representatives from the whole food supply chain, including farmers, producers and retailers, came together at Downing Street to identify ways that government and industry can work together to boost growth, drive innovation and improve sustainability.  The event featured discussions on a set of key themes and attendees enjoyed a showcase of great British food and drink businesses. A package of measures unveiled ahead of the summit included a commitment to protect farmers' interests in future trade deals, support to boost domestic fruit and veg production and new investment in technologies.
The summit featured on Sky News, ITV News, Channel 4 News and BBC Radio 4's Today Programme. The Prime Minister was interviewed by Farming Today on the morning of the summit and a comment piece by the Secretary of State for Food and Farming Thérèse Coffey was carried in The Times.
Ahead of the summit, Prime Minister Rishi Sunak said:
I will always back British farmers, and I pay tribute to their hard work and dedication all year round which keeps shelves stocked and food on our tables.

Supporting our farmers and food producers must, and always will be, at the heart of our plans to grow the economy and build a more prosperous country.

That's why I'm proud to host this summit, and working together, I'm determined to build resilience, strengthen our food security and champion the best of British at home and overseas.
Secretary of State for Food and Farming Thérèse Coffey said:
Food production is the primary purpose of farming, and our world-leading farmers and food producers work tirelessly day-in-day-out to keep the nation fed, despite global challenges including the illegal invasion of Ukraine.

I am delighted that today we have embarked on our next step to back British farmers and ensure a thriving food and drink sector which will see more British produce on supermarket shelves and plates both in the UK and across the globe. I look forward to working together, right across the food supply chain, to boost growth, innovation and sustainability.