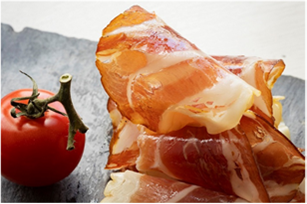 On Thursday 16th February, Defra announced that New Forest Pannage Ham is protected under the UK GI (Geographical Indication) scheme which protects the name, authenticity and characteristics of regional products. This means that New Forest Pannage Ham will hold the same status as other beloved national products such as Melton Mowbray Pork Pies and Cornish Clotted Cream.
There has been widespread coverage of this announcement, including in Mail Online, The Telegraph, Independent, ITV the Evening Standard and several regional outlets.
New Forest Pannage Ham is made from pigs who have been fed by 'pannaging', where pigs are released into the New Forest to forage for wild acorns. This method produces delicious, unique flavoured ham and has been occurring in the region for almost 1000 years.
The UKGI scheme, which was created following the UK's departure from the European Union, boasts 92 UK produced GI products, with dozens more planned for the future.
Food Minister Mark Spencer said:
New Forest Pannage Ham now carries the same protection as Melton Mowbray Pork Pies and Welsh Leeks. Our traditional foods help to form the backdrop of British life, and with a 1,000-year heritage New Forest Pannage Ham is a part of our national food story.

I look forward to sampling some New Forest Pannage Ham myself and celebrating this wonderful product with a unique history.