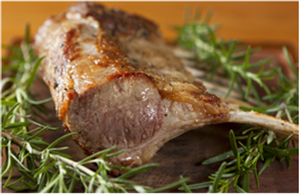 On Saturday 8th October, British lamb was exported to the USA for the first time in over twenty years, opening a market of over 300 million consumers to high-quality, British lamb.
There has been widespread coverage, including in national outlets, including the BBC, Guardian, Daily Express, Evening Standard and Daily Mail.
The shipment comes after a series of high-level talks resulted in the US government agreeing to lift a decades-long ban on British lamb exports in December last year. As part of the announcement, Food and Farming Minister Mark Spencer was interviewed by Bauer media for their suite of radio stations, which include the Absolute stations as well as Magic and Top Hits. He outlined how significant this move is for lamb farmers, and called it a "vote of confidence" for the high-quality and animal welfare standards of the British lamb industry.
The lamb was produced by red-meat processors Dunbia at their facility in Carmarthenshire Wales and was supplied from farms across the UK. For more information on how the Government provides support to British businesses with exporting, click here: Exporting and doing business abroad.
Environment Secretary Ranil Jayawardena said:
Tucking into roast lamb for Sunday lunch is quintessentially British – and now millions of American families will now be able to enjoy our top-quality lamb too.

"The opportunity for growth for British food is enormous – bringing jobs, skills and prosperity across the nation. With our mission to unlock growth, we will continue to secure more opportunities for our farmers and food producers to benefit from new markets.
Trade Secretary Kemi Badenoch said: 
Seeing our world-class lamb back on American menus is fantastic news for our farmers. Now they can sell to a consumer market of over 300 million people, which support jobs and growth in a vital British industry. It also shows our two nations working together to remove barriers and boost trade, building on recent resolutions on steel tariffs, and whisky exports.