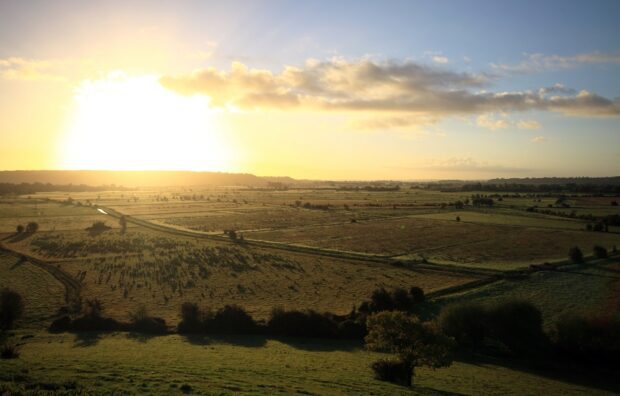 Today we are looking at media coverage around our Natural England announcement of the declaration of a vast new 'super nature reserve' spanning across large parts of Somerset, created to protect rare wildlife and aid nature recovery.
Yesterday's announcement received coverage across national, regional and trade titles, including the Guardian, Daily Express, Independent, Times, BBC News Online, ITV News Online, Somerset County Gazette, Sky News, I News, The Telegraph, Western Morning News and Somerset County Gazette.
Tony Juniper, the Chair of Natural England, was interviewed on the morning of the declaration by BBC Radio 4's Today Programme and on BBC Radio Somerset.  The Environment Minister, Rebecca Pow spoke to Matt Chorley for his show on Times Radio. Along with key partners they both were also interviewed by BBC Points West and ITV West Country.
The declaration of the new Somerset Wetlands 'super' National Nature Reserve (NNR) by Natural England and partners will protect 6,140 hectares of precious saltmarsh, heath and wetland habitats, home to nationally significant wildlife populations.
The area is a stronghold for many different species of wetland and ground nesting birds like the Skylark, Bittern and Avocet. It is also a significant site for a huge variety of insects such as the hairy dragonfly, silver diving beetle and the raft spider – the second largest spider in the UK.
 Tony Juniper, Chair of Natural England, said: 
The creation of this very large National Nature Reserve is an important moment for Nature recovery in England. This is not least because it presents a practical demonstration of what can be done by working in partnership across the landscape at scale to reverse Nature's decline. Natural England intends to encourage other projects with similar ambition.

Seventy years from the creation of our first National Nature Reserves in England these wonderful places are needed now more than ever, as we face into the challenges of global warming, wildlife decline and reconnecting people with the natural world.
Environment Minister Rebecca Pow said:
This is a landmark moment for nature recovery in Somerset. A new super National Nature Reserve will not only protect wildlife and help tackle climate change by restoring peatlands and improving habitats, it will provide people with greater opportunities to visit these beautiful wetlands with consequent spin offs that will benefit the local economy too."

And crucially, this vast project will play an important part in reversing the decline in nature through our Nature Recovery Network, as set out in our ambitious Environment Act.
With the increasing need for a bigger, better and more joined-up approach to nature conservation, the declaration is an important moment for nature recovery. The site will knit together a total of six nature reserves and other nature managed land in the Somerset Levels, Coast and Moors and will join England's developing Nature Recovery Network.