Environment Minister Rebecca Pow, Environment Agency Chair Emma Howard Boyd and Natural England Chair Tony Juniper visited the River Mimran in Hertfordshire on Friday 15 October for the launch of the Chalk Stream Restoration Strategy.
They met with members of the Chalk Stream Restoration Working Group, which has put forward a set of recommendations to protect and restore England's rare chalk streams.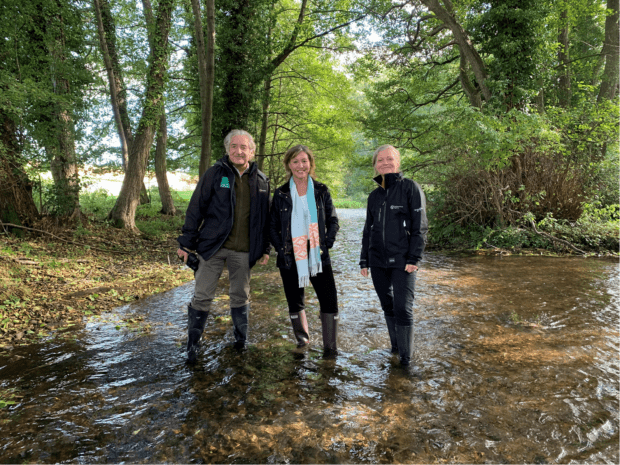 The independent group, created by Catchment Based Approach (CaBA) partners including Defra, the Environment Agency, Natural England, water companies, Ofwat and eNGOs,  is chaired by Charles Rangeley-Wilson, who presented the strategy to the group and to stakeholders.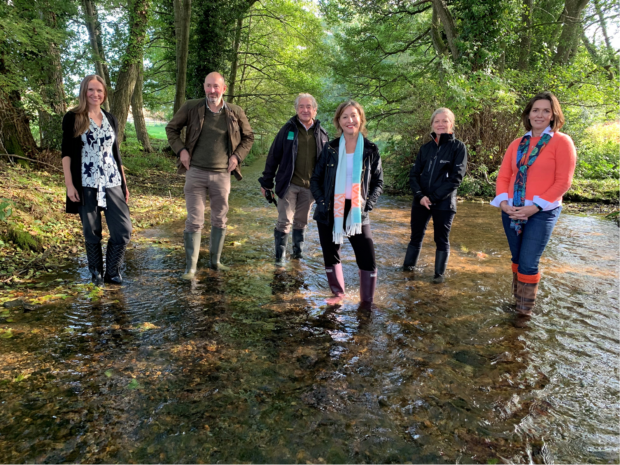 The strategy outlines the current issues threatening chalk streams in England and what must be done to protect the three key indicators of ecological health: water quantity; water quality; and physical habitats. It recommends enhanced status for chalk streams to drive investment to prevent pollution and over-abstraction, as well as restoring habitat to boost biodiversity.
Environment Minister Rebecca Pow said:
Chalk streams are both incredibly rare and a hugely important part of our environmental heritage.

"That's why on behalf of the government I called for the creation of an independent CaBA-led working group, the Chalk Streams Restoration Group last year and welcome its ambitious strategy. Action is in progress wherever possible with our flagship projects programme underway. A third of the strategy recommendations are already being taken forward by government, regulators and other CSRG members.

"I look forward to seeing how the work progresses and continuing to work together on ways to further protect and restore this vital habitat.
Environment Agency Chair Emma Howard Boyd said:
England is home to 85% of the world's chalk streams and their future depends on collective action from water companies, farmers, and landowners as well as government and regulators.

"No one should undermine the value of chalk streams, and today's report adds clarity and certainty about what is expected of all their users.

"The National Framework for Water Resources encourages water companies to open up new infrastructure to reduce reliance on chalk aquifers. This is one of the many good proposals in today's report that needs collective action.
Natural England Chair Tony Juniper said:
Chalk streams are unique natural features, and considering that most such rivers in the world are found here in England, we have a particular responsibility to ensure that they are in good health.

"These habitats are subject to a complex range of pressures, however, from pollution arising from road runoff, agriculture and sewage, to low flow resulting from abstraction for public water supply and physical damage to the water courses.

"We look forward to working with others to ensure this new strategy leads to the kind of joined-up partnership action needed to address these pressures, protecting and restoring chalk streams for future generations to enjoy.