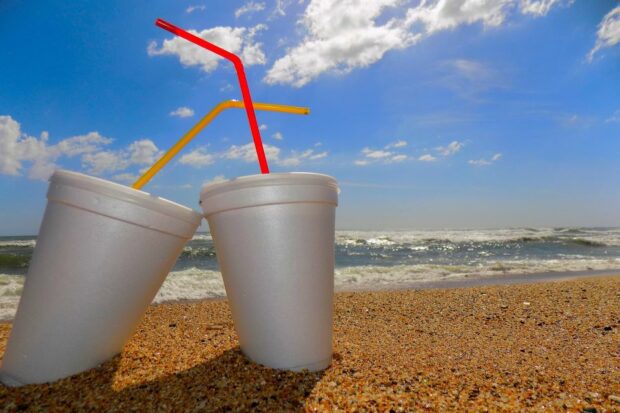 There has been widespread national coverage of our intention to launch a consultation on banning a range of single-use plastics including in BBC News, Sky News, the Times, the Telegraph, The Daily Mail, The Sun, the Guardian, the Independent, the Mirror. The news also featured on BBC News at 10 and on BBC Breakfast.
Single-use plastic plates, cutlery and polystyrene cups are among a raft of items that could be banned in England as part of a new public consultation being launched in the Autumn. The proposals will lead to businesses using more sustainable alternatives and prevent plastic litter from polluting our landscapes.
The plans for the consultation come after the huge success of the 5p charge on single-use carrier bags, which cut sales in the main supermarkets by 95% since 2015 and was increased to 10p and extended to all retailers in May (link to press release). The Government has also banned microbeads in rinse-off personal care products and restricted the supply of single-use plastic straws, stirrers and cotton buds.
Secretary of State George Eustice said:
We've all seen the damage that plastic does to our environment. It is right that we put in place measures that will tackle the plastic carelessly strewn across our parks and green spaces and washed up on beaches.

"We have made progress to turn the tide on plastic, banning the supply of plastic straws, stirrers and cotton buds, while our carrier bag charge has cut sales by 95% in the main supermarkets.

"Now we are looking to go a step further as we build back greener. These plans will help us stamp out the unnecessary use of plastics that wreak havoc with our natural environment.
Jo Morley, Head of Campaigns at City to Sea, said:
We welcome the news that the Government are taking steps to tackle some of the most polluting single-use items. This is a much-needed move, that we as campaigners have been calling for, along with thousands of our supporters and members of the public.

"We need now to take a leading role in banning unnecessary single-use plastics to see real benefits for the nation's and the world's wildlife.
Further details of the consultation, including the full list of single-use items under review, will be announced in the upcoming weeks.