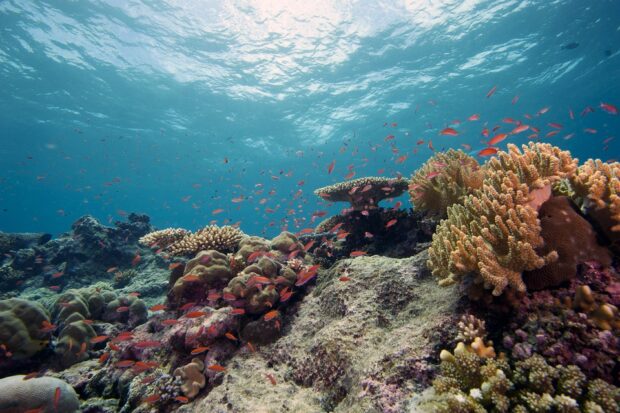 Today (13th August 2021), the government has announced the first set of programmes to receive funding from the £500m Blue Planet Fund launched by the Prime Minister at the G7 summit.
The £16.2m sum has received national media coverage in the Daily Mail and trade media attention in Mirage News as well as international coverage in Euro News Weekly.
The programmes, financed from the UK's overseas aid budget, will increase marine protection, tackle plastic pollution and the decline of global coral reefs, as well as using the UK's world-leading expertise to help respond to marine pollution disasters such as the Xpress Pearl in Sri Lanka.
The full breakdown of the £16.2m funding is:
£5.7m for a new UK-led Ocean Country Partnership Programme, to tackle marine pollution at is source, create well-managed marine protected areas, and make aquaculture more sustainable by helping developing countries partner with and access the UK's world-leading ocean science expertise
£5m into the Global Fund for Coral Reefs, to help developing countries within the Caribbean, India Ocean, Pacific and Southeast Asia prevent the extinction of vital coral reefs
£2.5m contribution to the Global Plastic Action Partnership, to tackle the scourge of plastic waste before it enters the ocean
£2m into the Ocean Risk and Resilience Action Alliance, to help developing countries fund coastal nature-based solutions to tackle climate change
£1m into the Global Ocean Accounts Partnership, to help developing countries calculate and account for the value that a healthy ocean brings to their economies.
Environment Secretary, George Eustice, said:

The UK is a global leader in marine protection and will continue to advocate for ambitious climate and ocean action at COP26 this year.

Our shared ocean is a vital resource and provides habitat to precious marine life, as well as supporting the livelihoods of one in every ten people worldwide.

"The Blue Planet Fund will support many developing countries on the front line of climate change to reduce poverty and improve the health of their seas.
The projects receiving funding include the launch of a new UK-led programme – the Ocean Country Partnership Programme (OCPP) - which will help developing countries partner with the UK's world-leading scientists to better manage marine protected areas, and improve our understanding of the impacts of climate change and contaminants in the ocean.
The UK is also leading calls for a new global '30by30' target to protect at least 30% of the land and at least 30% of the ocean by 2030. Over eighty countries now support the marine protection target, and the Blue Planet Fund will help make sure that 30by30 becomes a reality.