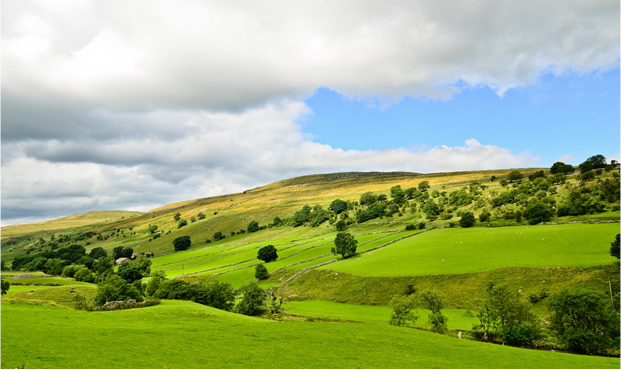 There has been extensive coverage of our announcement of plans for the agricultural transition period on the front pages of the Times, the Telegraph and the Guardian this morning. This has also been reported in the Independent, Daily Mail, Daily Express, the I, Western Daily Press, Western Morning News, Yorkshire Post, Farmers Guardian, Farmers Weekly, Horticulture Week, the Northern Farmer, and Agriland.
An exclusive opinion piece from the Environment Secretary is also on the Telegraph's website.
Interviews of the Environment Secretary featured across broadcast this morning, including BBC Breakfast, Good Morning Britain, Sky News, BBC Radio 4's Today and Farming Today programmes, Times Radio, BBC Radio 5 Live and LBC. And the Faming Minister, Victoria Prentis, appeared on BBC Radio Devon and BBC Radio Norfolk.
The roadmap published today sets out our plans that will bring about the most significant change to farming and land management in 50 years . These will be introduced over a period of seven years to help farmers adapt and plan for the future.
Outside the EU, and no longer bound by the EU's bureaucratic Common Agricultural Policy, the plans set out how government intends to introduce a new system that is tailored to the interests of English farmers, centred on support that rewards farmers and land managers for sustainable farming practices.
The changes will be designed to ensure that by 2028, farmers in England can sustainably produce healthy food profitably without subsidy, whilst taking steps to improve the environment, improve animal health and welfare and reduce carbon emissions.
Next year marks the start of the transition where we will begin to move away from the Basic Payment Scheme (BPS) towards new policies that will be co-designed and tested together with farmers, land managers and experts, to ensure that the new systems work for them.
The government remains committed to its manifesto commitment to guarantee the current annual budget for every year of this Parliament.
In a speech to environmental and farming stakeholders hosted by the Oxford Farming Conference earlier today, the Environment Secretary said:
We want farmers to be able to access public money to help them tackle climate change and support the environment and animal welfare on the land they manage and to help their businesses become more productive and sustainable.

We want to support confidence in UK food internationally, prevent environmental harm and protect biosecurity and animal welfare.

Rather than the prescriptive, top down rules of the EU era, we want to support the choices that farmers and land managers take on their holdings, and we will work with them to refine and develop the schemes we bring forward.  If we all work together to get this right, then I believe a decade from now the rest of the world will be coming here to see how it's done.
The key changes include:
Introducing the Environmental Land Management scheme to incentivise sustainable farming practices, create habitats for nature recovery and establish new woodland to help tackle climate change.
Investing in improving animal health and welfare as part of our sustainable farming approach. This will initially focus on controlling or eradicating endemic diseases amongst cattle, pigs and sheep.
Direct Payments will be reduced fairly, starting from the 2021 Basic Payment Scheme year, with the money released being used to fund new grants and schemes to boost farmers' productivity and reward environmental improvements.
Launching a Farming Investment Fund, which will support innovation and productivity. This will open for applications next year and will be used to offer grants for equipment, technology and infrastructure for the future.
Simplifying and improving existing schemes and their application processes further from January 2021 to reduce the burden on farmers, and we will take a modern approach to regulation, cutting unnecessary red tape for farmers and working together with industry to design a more targeted regulatory system.