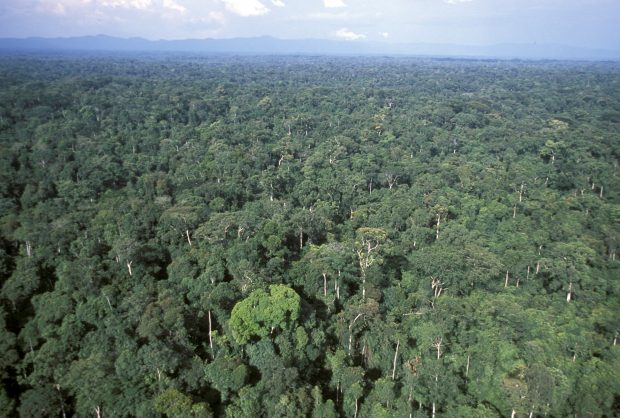 Today (11 November) the government has announced it will go further than ever before to clamp down on illegal deforestation and protect rainforests, thanks to world-leading new laws being introduced through the landmark Environment Bill.
The move has been covered in The Daily Telegraph, BBC News Online, The Express and Radio 4's Today Programme.
Today's move coincides with the publication of a new report setting out government's approach to tackling deforestation linked to UK demand for products such as cocoa, rubber, soya, and palm oil. The report responds to the recommendations from the independent Global Resource Initiative, which consulted over 200 leading businesses and organisations.
Combined, the package of measures will ensure that greater resilience, traceability and sustainability are built into the UK's supply chains by working in partnership with other countries and supporting farmers to transition to more sustainable food and land use systems.
There were more than 60,000 responses to the government's consultation, with 99% in favour of legislating on this critical issue.
One of the leading new measures is the introduction of a new law in the Environment Bill which will require greater due diligence from businesses, and make it illegal for UK businesses to use key commodities if they have not been produced in line with local laws protecting forests and other natural ecosystems.
International Environment Minister, Lord Goldsmith, said:
In every conceivable way we depend on the natural world around us. Rainforests cool the planet, provide clean air and water, and are a haven for some of the most endangered species on Earth – and so protecting them must be a core priority.

Our new due diligence law is one piece of a much bigger package of measures that we are putting in place to tackle deforestation. Our intent is not just to take world-leading domestic measures, but to build a global alliance of countries committed to working together to protect the world's precious forests.

Last month, nearly 80 countries signed the Leader's Pledge for Nature, committing to reverse the destruction of nature by 2030. The UK played a key role in crafting the pledge, and as hosts of the next and all important UN Climate Conference, we have a chance to turn those powerful words into action.
CEO of Tesco UK & ROI, Jason Tarry, said:
Due diligence has an important role to play in halting deforestation, fighting climate change and protecting communities.

We welcome these new measures as an important first step towards creating a level playing field in the UK, aligned with Tesco's goal of zero deforestation. We hope this encourages all businesses to do the right thing.
Alongside the domestic measures set out in today's report, the UK Government will capitalise on its forthcoming presidency of the UN Climate Change summit next year in Glasgow to accelerate a global transition to more sustainable supply chains by bringing together producer and consumer countries of forest risk commodities to share perspectives and take action.