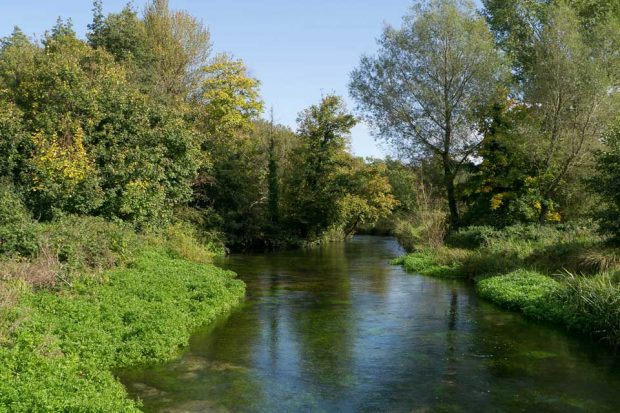 There has been coverage in the Guardian and ENDS Report of ongoing work by the Environment Agency to examine whether more than 50 sites that supply salad and vegetables to supermarkets and other businesses are discharging chemical pollution into rivers and streams.
This follows an EA investigation into the salad supplier Bakkavor that found it was discharging neonicotinoids into the Upper Itchen, a protected chalk stream in Hampshire.
Chalk streams are rare and precious water environments. Their good quality water needs to be protected and maintained in order for different species of fish, plants and insects, many of which are unique to these habitats, to flourish.
Bakkavor has been undertaking extensive sampling of the wash waters discharged from their Alresford site, as required by the EA as part of an ongoing permit variation. This sampling demonstrated elevated levels of a neonicotinoid pesticide entering the Upper Itchen. Following the issue being highlighted by the EA, immediate action was taken by Bakkavor to reduce levels of this pesticide. These actions delivered – additional monitoring undertaken has resulted in no further neonicotinoid detections.
It is the operator's responsibility to identify chemicals which are or could be present in their discharge and provide this information in support of their permit application. The EA is now examining 52 other sites where permits have been issued allowing them to wash food produce off into rivers and streams. The assessments include consideration of any protected site designations, with priority given in sensitive watercourses such as chalk rivers.
Our water environment has improved dramatically in recent decades and we want to maintain and improve it further. The Environment Agency plays a key role in protecting water for people's lives and livelihoods – by responding to pollution incidents, regulating abstraction and improving water quality along rivers and beaches.
We are working hard to balance the needs of the environment and people, working with industry, water companies, farmers and others to ensure that the environment is protected and we are taking strong action against those who we find to be damaging it.
An Environment Agency spokesperson said:
We will take tough action against any company or individual who causes significant pollution and damage to the environment.

We have already taken direct action with Bakkavor and learnings from this work are being incorporated into our approach with other companies we regulate. This includes assessing risks at other sites and prioritising the most sensitive locations.
Call to action: Follow Defra on Twitter, and sign up for email alerts here.