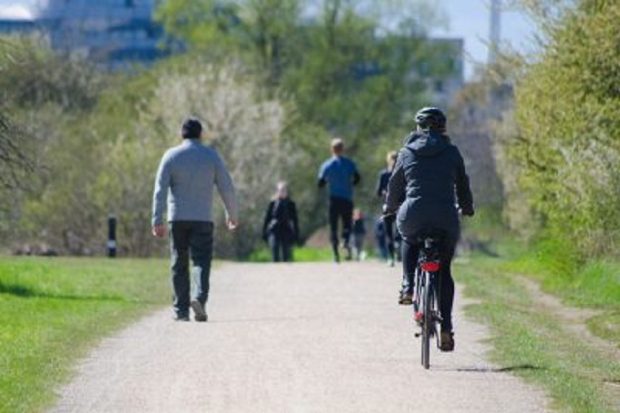 There is positive coverage in today's Daily Telegraph of the government's new £4.27m scheme aimed at helping the mental wellbeing of communities hardest hit by coronavirus. The fund, first announced in July by Environment Secretary, George Eustice, is now officially open for funding applications from potential delivery partners.
The project will examine how to scale-up green social prescribing services in England to help improve mental health outcomes, reduce health inequalities and alleviate demand on the health and social care system.
Green prescribing could include support for walking and cycling groups, green gyms, and practical habitat management conservation tasks such as tree planting. For more vulnerable groups, it could include supported visits to local green space, activities such as gardening, and other outdoor activities to reduce isolation and loneliness.
Environment Minister Rebecca Pow said:
We know that connecting with nature is good for us, and the pandemic has given us an even greater awareness of the link between our own health, and that of our environment.

I am delighted to open funding for these trailblazing projects which will test how we can increase use of green social prescribing services to improve the nation's mental health and reduce demand on our health system.
Chief Executive of Natural England, Marian Spain, said:
The evidence from Natural England's People and Nature survey shows beyond doubt that nature is good for our health. We have seen that demonstrated on a daily basis during the pandemic, with a resurgence in the use of urban parks, beaches and nature reserves and many people talking about the positive impact on their mental health and wellbeing. There is a compelling case, now more than ever, to provide more access to the outdoors for everybody as part of our health care system as the nation builds back greener from the pandemic.

But we have also seen the stark reality of the inequalities in access to nature.  So, I'm absolutely delighted that Natural England will be supporting these projects to help more people – especially those we know are least able to connect with nature – to benefit through social prescribing to improve their mental health and wellbeing.
The article also cites Natural England evidence showing the NHS could save more than £2 billion in treatment costs if everyone in England had equal access to good quality green space.
More information on the project and how to apply can be found on Defra's gov.uk page here: https://www.gov.uk/government/publications/green-social-prescribing-call-for-expressions-of-interest