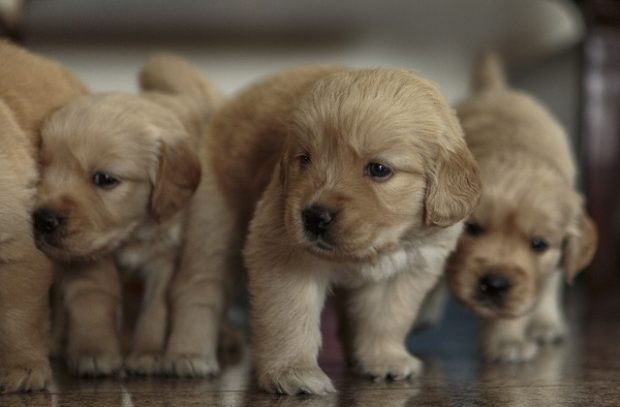 Today there was coverage in the Independent following an open letter signed by vets, charities and animal-loving celebrities including Kirsty Gallacher, Amanda Holden, Paul O'Grady and David Gandy calling for people to watch out for unscrupulous puppy and kitten sellers. The UK's Chief Veterinary Officer Christine Middlemiss was interviewed this morning on the issue by BBC Breakfast and Sky News.
The letter, also signed by former international rugby players Chris Robshaw and Sam Warburton, is part of the government's 'Petfished' campaign which seeks to raise awareness amongst potential pet buyers of how to make sure they are buying a pet from a happy home.
As more people are looking buy pets during the coronavirus pandemic, unscrupulous sellers may be looking to profit from this rise in demand. Online marketplace Preloved has reported that the number of pet listings has increased by nearly 50% since March and Pets4Homes has also said that they are experiencing not only a six-fold increase in new user accounts, but an average of 155 views per new pet advert.
Both Preloved and Pets4Homes are supporting the Petfished campaign, which urges people to stop and ask: 'Who's the person behind the pet?
Chief Veterinary Officer Christine Middlemiss said:
"Prospective pet owners must beware of sinister sellers out there who breed animals purely for profit with zero concern for their welfare. The devastating consequences include crippling vet bills and, in the worst cases, animals having to be put down.
"It's vitally important that people not only research the breed of animal they want but also the person selling it to them."
Animal Welfare Minister Lord Goldsmith said:
 "At this time when more people are looking for pets it is more important than ever that buyers do their research and ensure they go to a reputable seller.
Following the introduction of Lucy's Law earlier this year, everyone must now buy directly from breeders or consider adopting from rescue centres. So please look out for the warning signs and report any suspicious activity."
Following the introduction of Lucy's Law in April 2020 – it is now illegal to sell a kitten or puppy you haven't bred.
The Petfished campaign calls for consumers to remain vigilant, always research the seller before visiting, report suspicious adverts and crucially be prepared to walk away and report suspected cases of animal abuse to the RSCPA or the police.
Anyone still looking to buy a pet can get tips and advice on the Petfished campaign website by searching 'Get your pet safely' or visiting getyourpetsafely.campaign.gov.uk  
Follow Defra on Twitter, and sign up for email alerts here.