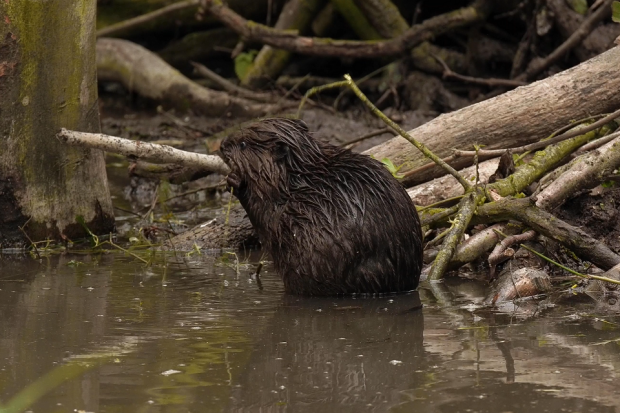 There is coverage in the Daily Telegraph, BBC News Online, MailOnline, the Independent, Daily Express, and the Ecologist reporting the birth of two healthy beaver kits in a natural flood management scheme run by the Environment Agency in Essex.
The Eurasian Beavers were welcomed back to Essex in 2019 for the first time in 400 years to help reduce flood risk in Finchingfield in a partnership project between Spains Hall Estate, the Essex & Suffolk Rivers Trust, Essex Wildlife Trust, and the Anglian Eastern Regional Flood and Coastal Committee (RFCC).
BBC News Online showcases images of the natural flood defences built by the beavers – dams. These reduce flood risk to the village and also create wetlands which release water during drier periods. The beaver duo, recently named Woody and Willow, have been working relentlessly over the last year in their Finchingfield enclosure on the historic Spains Hall Estate.
The Environment Agency's Matt Butcher said:
This is a fantastic project for the Environment Agency to be part of. It has been really exciting to see how the beavers have engineered their environment by building dams, slowing the flow and holding up water to reduce the risk of flooding downstream.

The complex habitat they have created along the way is amazing and improving all the time, which makes this a real win-win for people and wildlife. The news of the beaver kits has just taken things to another level, and it will be incredible to see what the new members of the family will do to in the coming months and years.
A five-year project by Devon Wildlife Trust to study the role of the beavers on the River Otter – which concluded earlier this year – found that beavers can help reduce flooding through dam-building, improve water quality, create habitat for other wildlife, and boost the local economy through eco-tourism.
Natural England is analysing the results of the Devon trial along with a range of other experiences with beavers across the UK and in other countries, to help to inform decisions on the status of beaver in England, including potential management and licensing approaches.