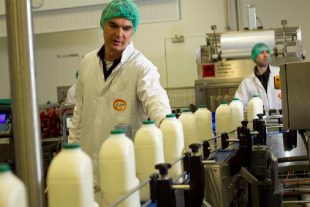 There has been coverage this morning on BBC Breakfast, the BBC Radio 4 Today Programme and on Sky News as well as in the Financial Times and Daily Mail of challenges being faced by the dairy sector during the coronavirus pandemic.
We are working very closely with the NFU and wider dairy industry to understand the difficulties in the supply chain as a consequence of coronavirus and to ensure that they are supported through this difficult period.
The Environment Secretary is also speaking to NFU president Minette Batters later today to discuss in further detail the specific challenges that the sector is facing and any practical solutions.
We have already taken action to support the sector, by temporarily relaxing Competition Laws to enable retailers, their suppliers and logistic services to work together to feed the nation. By relaxing these laws, dairy businesses that would not normally supply retailers have been able to do so and businesses have been able to work together to coordinate the quantities being supplied to different retailers.
A Defra spokesperson said:

We have taken a number of measures to support our food and farming sectors to manage the impact of coronavirus on the dairy supply chain. We are also working very closely with farmer and processor representatives to understand the specific challenges that the dairy sector is facing.

Frequent discussions with the dairy supply chain will continue through this crucial period to understand what further support the sector needs.

We have been working closely with the NFU and other stakeholders, and the Secretary of State will also be speaking directly to the NFU President to discuss this matter further.