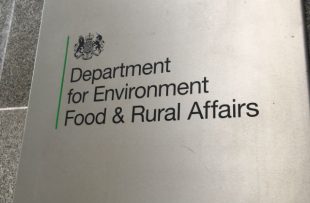 This week the first free food boxes containing essential supplies have been delivered across England to those at highest risk from coronavirus.
The Times has run an article on the contents and nutritional value of these government food boxes for the most vulnerable, which it suggests are not sufficient, particularly because of the lack of fresh items in the box.
The parcels contain enough food for one person for one week. They are intended to provide basic supplies to those who need them most. The contents of the box were put together in consultation with nutritionists and industry groups, but there are some limitations around what could be included. For example, due to packing and delivery logistics the boxes can only contain items that can be stored at room temperature. That is why there are more tinned goods and longer lasting fruit such as apples or pears.
While the contents of the parcels may have slight variation (depending on stock), they contain long-life items such as tinned vegetables - as well as tinned tomatoes - tinned fruit, soup and baked beans, and a jar of cooking sauce. Other tins will contain meat and tuna. Store cupboard staples such as pasta, rice or noodles or cous cous, and potatoes are also in the box, along with cereal, bread and fruit. Coffee, tea and biscuits can also be found inside, plus toilet paper and shower gel.
For those with special dietary needs that may not be met by the packs they receive, they should contact their Local Authority for further help and advice.
It is also important to note that these food boxes are part of the wider solution which is evolving to meet people's needs. We are working with supermarkets to prioritise their deliveries to the most vulnerable people. We are also working quickly to support people who do not fall into the category of being clinically vulnerable, but still need help getting essential food supplies. This could include those who are elderly, disabled or have health conditions that make it difficult for them to get the food they need.
Where possible, people should continue to rely on friends, family and wider community support.
Further guidance on food box eligibility for the most vulnerable is outlined here:
Getting support with food supplies as a clinically extremely vulnerable person
Up to 1.5 million people in England have been identified by the NHS as being the most clinically vulnerable and therefore at higher risk of severe illness if they contract coronavirus. The NHS has written to many of these individuals asking them to shield themselves at home and minimise non-essential contact with others, and giving them instructions of how to register on a Government website if they need support getting essential food supplies.
If you have received this letter and registered on the Government website and have been assessed as having no other means of accessing food, you will be eligible for a Government food parcel to be delivered to your home. The Government has begun delivering parcels and is working to deliver as many as possible as soon as possible. Your information will be also be passed to food retailers to prioritise you for home delivery slots. If you think you should have received a letter but haven't had one, then you should contact your GP.
You may not fall into this category of being clinically vulnerable but you are vulnerable in other ways and in need of support getting essential food supplies. The Government is working to identify these individuals as soon as possible, and is working with food retailers and volunteer groups to help prioritise those individuals for home deliveries or support with getting food supplies.
Wherever possible you should continue to rely on friends, family and wider support to help you meet your needs.