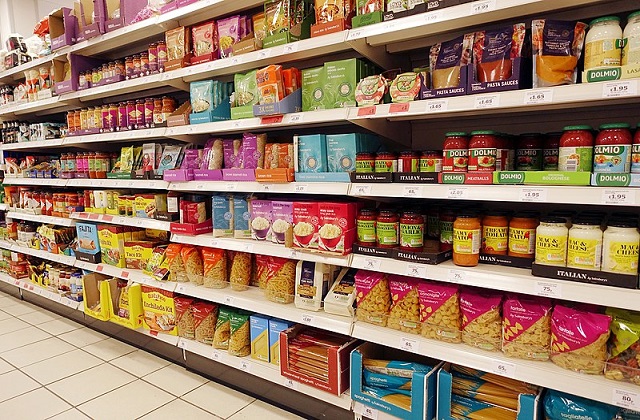 The government is working closely with the food and drink industry to ensure the public can continue to access the food they need.
On Friday the Environment Secretary announced £16 million of funding to provide food for those who are struggling as a result of coronavirus. Working with FareShare and WRAP, the programme will provide millions of meals over the next 12 weeks.
We have also set up a Covid-19 Food Charity Grant Scheme, which will allow other charities that provide food to apply online for funding. Guidance on how to apply is available here.
At least 5,000 frontline charities and community groups in England will benefit, including refuges, homeless shelters and rehabilitation services. It will cover rural areas as well as cities, targeting those who are struggling to get food.
Environment Secretary George Eustice said:
"During this difficult time our frontline food charities are doing brilliant work amid a significant increase in demand – working in refuges, drop-in services, homeless centres and other places.
"It is absolutely vital they have the resources they need and this funding will help the most vulnerable in our society get the food they need at this enormously challenging time."
Last week it was announced that through a cross-government effort, over 1 million boxes of essential food have now been delivered to those at highest risk across England.
The government is also reiterating its advice that people can continue to access food from a variety of sources, including takeaway outlets and drive-throughs. The Environment Secretary stated in Friday's press conference that many food to go chains are considering the best way to reopen and maintain social distancing measures - providing more choice for people as they stay home and allowing them to support their local businesses.
Actions the retail industry is taking:
Costa Coffee have re-opened a small number of Drive-Thru lanes and delivery stores. The Drive-Thru lanes are near large hospitals. The delivery stores allow customers to order via Uber Eats.
Marks and Spencer has launched a food redistribution app to all stores – supporting donations of over one million meals during the coronavirus crisis.
Pret has opened 20 more locations around London for takeaway and delivery.
Tesco has announced it has become the first retailer in the UK to fulfil one million grocery orders in a week, following efforts to increase online delivery capacity.
McDonald's has published an initial list of restaurants which will re-open for delivery only from 11:00 from 13 May.
M&S are reinforcing their commitment to sourcing meat, farmed fish, poultry, dairy and fruit, veg and horticulture and will move to 100% British lamb by June.
Greggs will begin opening shops on 4 May in Newcastle as part of a controlled trial, with more to follow.
Aldi have signed up to the government's voucher scheme, which is supporting children eligible for free school meals during the outbreak.
Waitrose has announced that the number of delivery slots available each week will more than treble, giving over 2.5 million households the option to use the service to get the food and essentials they need at least 40% of these new slots will be reserved exclusively for the elderly and vulnerable.
Morrisons has partnered with Magic Breakfast to provide 200,000 boxes of cereal to over 12,000 schoolchildren during the lockdown.
Co-op has launched the Co-op Members' Fund in which members can donate their unspent loyalty points to support foodbanks and other charitable organisations.
Tesco, Sainsbury's, Aldi, ASDA, Morrisons, Waitrose, and Lidl have relaxed item restrictions on most products in store, but shoppers are still encouraged to only buy what they need to ensure all customers continue to have access to all the products they need. Iceland, M&S, and Co-op have also temporary item restrictions on some products.
Sainsbury's, Waitrose, Tesco, Marks and Spencer, Iceland, Aldi, Lidl, Iceland and Asda are all reserving an hour in stores for elderly and vulnerable shoppers.
Aldi, Marks and Spencer, Iceland, Tesco, Co-op, and Sainsbury's have priority shopping hours for NHS staff and social care workers.
Morrisons is increasing production and delivery of food boxes aimed at vulnerable and self-isolating people, which are also being delivered to local hospitals, care homes and sheltered accommodation for NHS and care workers.
Morrisons is partnering with Deliveroo to offer grocery home delivery.
Sainsbury's, Waitrose, Asda and Tesco have used customer and government data to identify elderly and vulnerable customers for priority slots and are increasing home delivery and click and collect capacity.
Morrisons is increasing available to customers both through Morrisons.com and the Morrisons Store on Amazon Prime Now.
ASDA, Aldi, Sainsbury's and Marks and Spencer's have introduced cashless volunteer shopping voucher schemes for those self-isolating or in vulnerable groups.
Contactless card payment spending limit has increased from £30 to £45 to help minimise contact between staff and customers.
Marks & Spencer, Morrisons and Aldi have launched food box services to help customers get the products they need and support those who aren't able to easily visit stores.
Morrisons have made a letter available on their internal website for their employees which clarify their key worker status in case of interaction with authorities.
ASDA will provide full pay to colleagues who have been identified by government as needing to self-isolate for 12 weeks and will offer fully paid leave to colleagues who are vulnerable or are the carers of extremely vulnerable people.
Waitrose, ASDA, Lidl, Sainsbury's, Morrisons, Tesco, Iceland, Poundland, SPAR and Aldi are implementing measures to ensure social distancing in stores – these include protective screens, hand sanitiser provided in store and directional floor markings to ensure distances are kept in queues.
Waitrose has announced a set of new measures to help its customers shop safely, including limiting customer numbers and introducing measures to ensure social distancing.
Waitrose is taking in store measures to ensure NHS workers receive the groceries they need – including reserving essential stock and increasing the size of daily deliveries to all 46 hospital stores across the UK.
Sainsbury's is offering an expanded 'click and collect service' and increasing the number of collection sites across the country. Waitrose is introducing special deliveries for vulnerable customers and Morrisons is making more online delivery slots.
Tesco, Waitrose, Asda, Aldi, Morrisons, Co-op and Marks and Spencer are all limiting shopping hours so they can restock overnight.
Morrisons has introduced immediate payments for its smaller suppliers so they can be paid more quickly. Aldi will pay any supplier with a turnover of less than £1m immediately.
The Co-op is fast-tracking recruitment of 5,000 store colleagues to provide temporary employment for hospitality workers who have lost their jobs.
Aldi is has launched a recruitment drive to hire 9,000 new workers, including roles in every one of its stores and distribution centres.
Lidl has donated £100,000 to the Covid-19 Emergency Community Fund, supporting vulnerable groups such as the elderly, and families who need help during school closures. Lidl has also partnered with FareShare is donating a large volume of ambient products to FareShare and The Trussell Trust. Morrisons is distributing £10 million worth of food to food banks. Asda has donated £5m to food charities to support the most vulnerable people in local communities. Waitrose has set up a £1m Community Support Fund to help those in need. Marks and Spencer and Lidl have also started community funds. Co-op will donate £1.5m worth of food to FareShare. Iceland Foods Charitable Foundation has donated £150,000 to Age UK to specifically support older people during the COVID-19 crisis.
Actions government is taking:
Getting support with food supplies as a clinically extremely vulnerable person
A significant number of people in England have been identified by the NHS as being the most clinically vulnerable and therefore at higher risk of severe illness if they contract coronavirus. The NHS has written to many of these individuals asking them to shield themselves at home and minimise non-essential contact with others, and giving them instructions of how to register on a Government website if they need support getting essential food supplies.
If you have received this letter and registered on the Government website and requested essential food supplies (and have been assessed as having no other means of accessing food), you will be eligible for a Government food parcel to be delivered to your home. The Government is working to deliver as many as possible as soon as possible. Your information will be also be passed to food retailers to prioritise you for home delivery slots. If you think you should have received a letter but haven't had one, then you should contact your GP.
You may not fall into this category of being clinically vulnerable but you are vulnerable in other ways and in need of support getting essential food supplies. The Government is working to identify these individuals as soon as possible, and is working with volunteer groups, local authorities and food retailers to help support those individuals with getting food supplies.
Wherever possible you should continue to rely on friends, family and wider support to help you meet your needs.