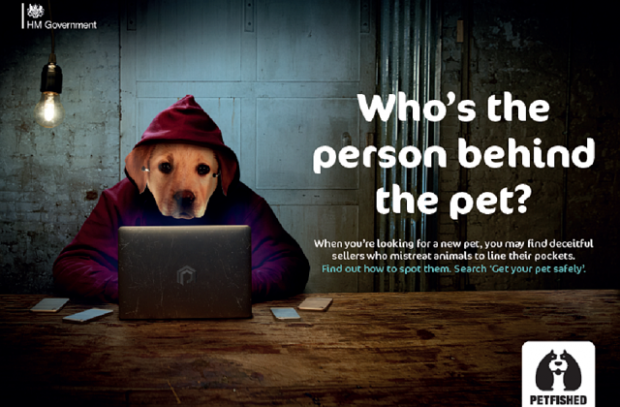 There has been positive coverage in The Times, The Telegraph, Sky News and Daily Mirror of a new government campaign to raise awareness of the true cost of buying a puppy or kitten from a disreputable breeder. Our survey found that 54% of vets predict the poor conditions of puppy or kitten farms could lead to illnesses and complications which would incur treatment costs of over £1,500 in the first year of the animal's life.
In some severe cases, the costs could rise to £5,000 or even result in the pet being euthanised.
The campaign launched today (Monday 2 March) urges people to ask themselves 'Who's the person behind the pet?'. It introduces a new phrase 'Petfished' - much like 'Catfished', when someone is lured into a relationship by a fictional online persona, it refers to deceitful pet sellers who use a similar tactic to trick buyers, mistreating animals and selling them at high-volume to line their pockets.
On 6 April 2020, the ban on commercial third party puppy and kitten sales – known as Lucy's Law – will come into force in England. The ban will help to crack down on puppy farms by disrupting the supply-chain of low-welfare breeders which relies on third party sales. This new legislation, married with the 'Petfished' campaign which seeks crack-down on the public's demand for this trade, is further evidence of the government's commitment to improving the welfare of the nation's much-loved pets.
Anyone looking to buy a pet can get tips and advice on the new website: getyourpetsafely.campaign.gov.uk
Christine Middlemiss, UK Chief Veterinary Officer, said:
Vets see the tragic effects of 'Petfishing' first-hand but so too do the public who may be put through the pain and cost of looking after, and even losing, a sick puppy or kitten due to the conditions it was bred in.

It's vital that prospective pet owners take responsibility for where they get their pets from and avoid puppy-farms and unscrupulous dealers. The campaign launched today sets out the simple steps that can be taken by the public to spot the warning signs and ensure their puppy or kitten is given the best start in life.
Animal Welfare Minister, Lord Goldsmith, said:
I am delighted that a ban on third party sales of puppies and kittens is coming into force – it is a crucial piece of legislation that will help us tackle the abhorrent and heart-breaking trade of pets.

Our campaign will help raise awareness of the dangers associated with buying pets online and deceitful sellers. The animals reared on puppy farms are often in awful conditions which can lead to chronic health problems, behavioural issues, and, in the most tragic cases, death. This simply has to stop and the public can do its bit to help.

We urge anyone thinking about getting a pet to do the right thing. Do thorough research and ensure you go to a reputable breeder in the UK – don't get 'Petfished'.