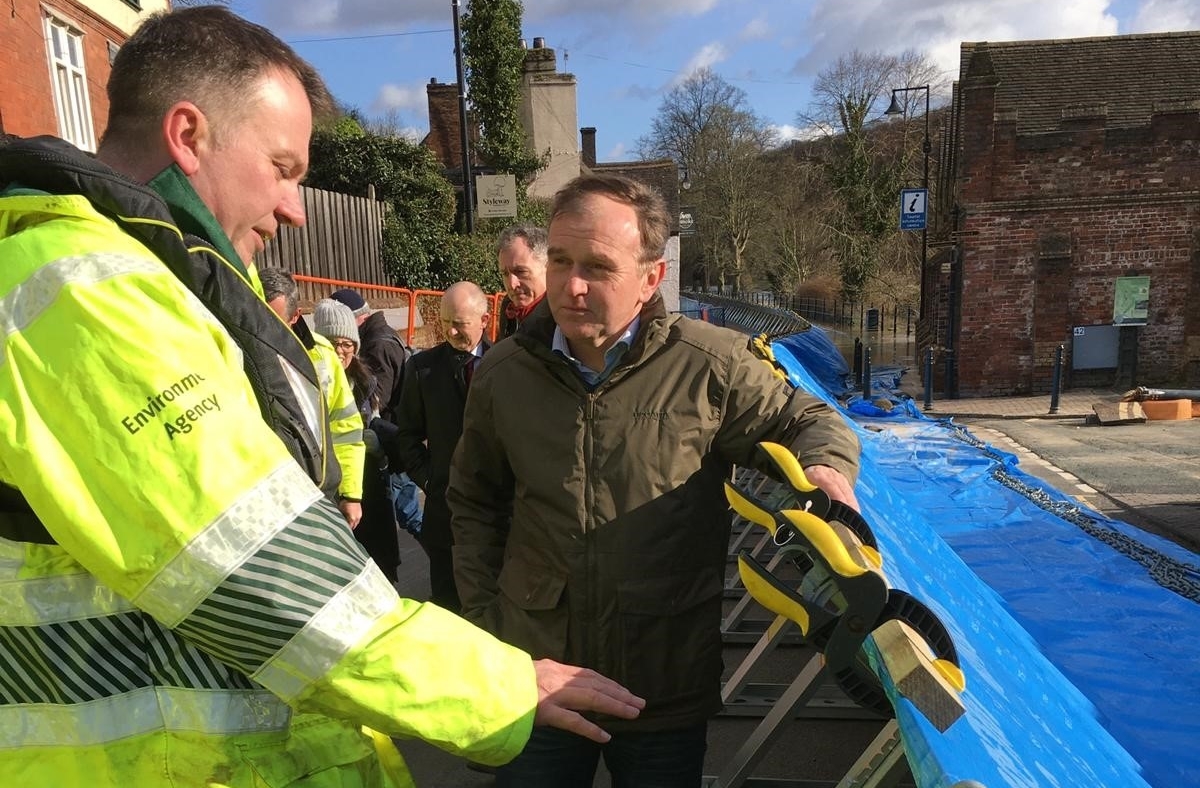 This morning, the Guardian has published an article on the Environment Secretary's visit to Ironbridge yesterday, claiming that the minister has been criticised for not meeting residents of the town who have been evacuated from their houses as a result of flooding.
Despite the headline, the Environment Secretary had in fact spent his visit meeting residents who have had their homes and businesses flooded, as well as meeting with members of the Environment Agency and the emergency services who have been praised by residents for their response to the record rainfall and extremely high river levels in the River Severn. After visiting Ironbridge, the Environment Secretary then travelled on to Shrewsbury where he met further residents and businesses who had been also be affected by recent flooding.
The piece also criticises the Environment Secretary for not visiting the Ironbridge area earlier. Decisions about visit locations are always informed by the advice of the Environment Agency and the emergency services so as to make sure local operations to ensure people's safety are not compromised, and so as not to unnecessarily divert resources away from responding to the flooding incident.
The Environment Secretary's visit came ahead of further unsettled weather conditions over the weekend, with communities urged to check their flood risk and remain prepared to take action if needed.
Heavy rainfall is expected to cause the River Severn levels to rise but are not currently forecasted to reach levels seen over previous weeks. Environment Agency are replacing damaged barriers in Ironbridge today to ensure that the barrier system provides protection over the coming weeks. Pumping operations are also still underway at Ironbridge and Bewdley.
New figures released by the Environment Agency show that  127,000 properties have been protected by flood defences this winter. Provisional figures show that 15 rivers in the Midlands, Yorkshire and Lancashire recorded their highest ever levels during or triggered by Storm Ciara and Storm Dennis. Since the start of Storm Dennis, up to 1,000 Environment Agency staff per day have been mobilised on the ground to issue flood warnings, operate flood defences and temporary pumps, clear debris from rivers, inspect damaged flood defences and make repairs.
Toby Willison, Executive Director of Operations at the Environment Agency, said:
With significant rainfall expected over the weekend, our operational work continues to protect people and property along the River Severn and parts of Yorkshire.

Environment Agency teams are on the ground, pumping away flood water and where it is safe to do so, repairing affected temporary flood barriers.

Further rain is forecast next week and teams will continue to work on the ground to protect the country. So far this winter 127,000 homes this winter have been protected by our work, that is 127,000 families whose lives have been spared the terrible misery that flooding causes.

We have already seen exceptionally wet weather in February. We need to prepare for more periods of extreme weather like this and I'd urge the public to be aware of their flood risk, sign up to flood warnings, make a flood plan and not to drive or walk through flood water.
River levels will remain exceptionally high on the Severn for some time and communities, in particular Shrewsbury, Bewdley, Bridgnorth and Ironbridge, should prepare for potentially ongoing severe flooding especially with more rain forecast.
The public can keep up to date with the latest safety advice, call Floodline on 0345 988 1188 or follow @EnvAgency on Twitter for the latest flood updates.