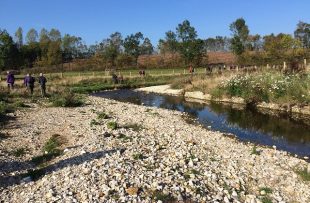 Today marks the end of the Year of Green Action (YoGA), a year-long drive to help everyone get involved in projects that support nature – in our own gardens, schools or workplaces, and as consumers.
Launched at London Zoo, YoGA has helped to connect people all around the country with nature, and show how we can all take positive action to improve our environment.
YoGA provided an opportunity to engage with individuals, community groups, environmental stewardship stakeholders, business and industry to get people to connect with their in green spaces. Examples of green action throughout the year include environmental volunteering such as litter picking and planting pollinator-friendly flowers, fundraising to maintain and enhance green spaces, and campaigning for the zero plastic waste agenda.
The government made a commitment, through its 25 Year Environment Plan, to become the first generation to leave the environment in a better state than we found it.
YoGA has helped to lay foundations for the future and embed the 25 Year Environment Plan across government and wider society to raise our ambition and collectively achieve the aim of a better environment within a generation.
Environmental volunteering opportunities and ideas of how to connect with nature can be found at www.yearofgreenaction.org.
Looking ahead, 2020 will mark the International Year of Plant Health, which will provide an opportunity to raise global awareness on how protecting plant health can help end hunger, reduce poverty, protect the environment, and boost economic development.