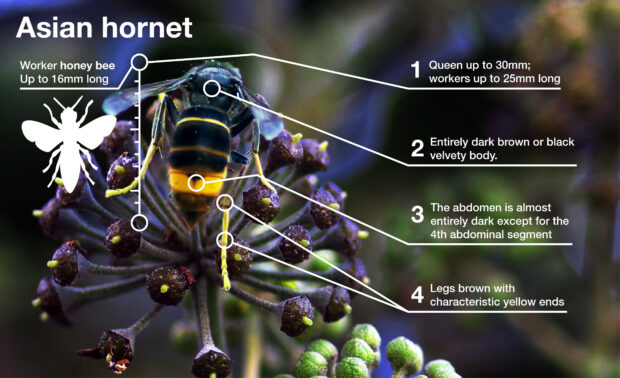 There is coverage running today (25 October) on the publication of the Environmental Audit Committee's report into Invasive Non-Native Species (INNS) which has been featured on the front page of the Financial Times and also in Daily Mail, Telegraph, Guardian, Independent, BBC News, Sky News and Horticulture Week.    
It is reported in the Financial Times that the report from the select committee calls for the establishment of a '1.3 million-strong citizens' army' with volunteers to check and remove species from foreign countries.
The newspaper reports that with the likelihood of trade routes changing after Brexit the possibility of further non-native species becoming established in the UK is increasing.
Species such as Asian hornet and Asian tiger mosquito potentially pose a health risk and Oak Processionary Moth caterpillars can strip an oak tree bare.
The UK is a leader in Europe on responding to invasive non-native species, with notable progress towards eradicating nine species from Great Britain including two birds (monk parakeet, ruddy duck), three fish (topmouth gudgeon, fathead minnow, black bullhead), two plants (water primrose, various-leaved water-milfoil), and two amphibians (American bullfrog, African clawed frog), and tackling Asian hornet incursions. As of May 2019, we are also free of the tree pest, Asian Longhorn Beetle.
A Defra spokesperson said:
Invasive non-native species not only challenge the survival of some of our rarest species but damage our natural ecosystems as well as costing the economy more than £1.7 billion per year.

We are committed to being leaders in tackling invasive species, and our 25 Year Environment Plan commits us to enhancing the biosecurity of the country even further.

We welcome the EAC's report and will now carefully consider its findings and recommendations.
Forestry Commission have an annual programme of activity to minimise the introduction and spread of invasive tree pests and diseases. Strong biosecurity relies on everyone playing their part – in our forests, at borders or buying plants – and Forestry Commission raises awareness of simple actions people and professionals can take to protect against invasive pests and diseases and make sure they do not spread them from one place to another.
Dr Anna Brown, Head of Tree Health & Contingency Planning, Forestry Commission, said:
Those of us involved in importing or trading plants must maintain our vigilance against exotic pests and diseases. There is a lot we can do such as only buying stock from reputable, responsible suppliers and regularly inspecting imported plants.

Inspect, inspect and inspect again – we can't check imported plants too often for signs of trouble. Don't presume that because your supplier found no evidence of a pest or disease that you won't either. You might spot something that they have missed, this season or the next.
The government is also bringing forward the first Environment Bill in over 20 years. This will include ambitious legislative measures to take direct action to address the biggest environmental priorities of our age: air quality, nature recovery, waste and resource efficiency, and water resource management.