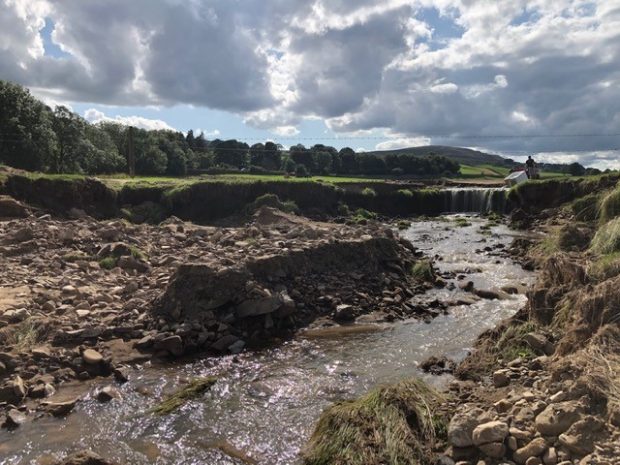 There is coverage today in the Yorkshire Post, BBC News, Richmondshire Today and Business Leader on the opening of a £2 million fund which will help farmers affected by this summer's flooding.
Through the Farming Recovery Fund, farmers in North Yorkshire and Wainfleet who have suffered uninsurable damage to their property can apply for grants of between £500 and £25,000 to cover repair costs.
The grants are available for a range of farm restoration work, including rebuilding dry stone walls, re-cultivating productive land and replacing damaged field gates.
Environment Secretary Theresa Villiers said:
This summer's unprecedented weather wreaked havoc on farmland in North Yorkshire and Wainfleet. The Government is taking action to help farmers get back on their feet in light of the extensive damage suffered.

I'm therefore delighted to open the Farming Recovery Fund and would encourage all those affected to check what they are eligible to apply for and to submit an application promptly to ensure they can access the money available to contribute to their restoration work.
Our handbook includes full details of what is eligible and how to apply for funding. Farmers have until 31 March 2020 to submit an application to the Rural Payments Agency for this funding.
RPA Chief Executive Paul Caldwell said:
I welcome the opening of Farming Recovery Fund today for applications, following the destruction caused by unprecedented weather earlier this summer.

The RPA, alongside the NFU and CLA, has worked hard to get this scheme up and running, and we will continue to offer advice and support to affected farmers to complete their applications.
Welcoming the announcement, NFU Vice President Stuart Roberts said:
The reinstatement of the Farming Recovery Fund will be a relief to those farmers affected by the recent flooding events in Yorkshire and Lincolnshire who're now coping with a massive clear-up operation.

We will continue to work with Defra to ensure that the scheme is implemented and farmers are able to apply for the funding they desperately need.