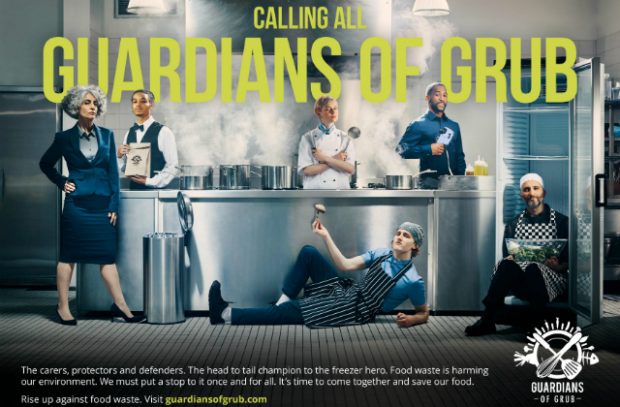 This morning's Daily Mail includes positive coverage of WRAP's Guardians of Grub campaign.
Throughout September, a dedicated Stand Up For Food month of action is being spearheaded by WRAP as part of the campaign, and has garnered the support of the Government's Food Surplus & Waste Champion Ben Elliot, well-known chefs including Hugh Fearnley-Whittingstall, Skye Gyngell, Adam Handling, Ken Hom, Melissa Hemsley, Anna Jones and Thomasina Miers and major businesses and trade bodies.
During September, the UK's busiest bars, pubs, restaurants, hotels, quick service outlets, cafes and catering companies will make sure they Target, Measure and Act on food waste. From street food to Michelin star, the Guardians of Grub's influence stretches the length and breadth of Britain encompassing every division of the businesses involved. From kitchen staff to management, all will ensure food waste prevention is front of mind and that they measure and minimise food wastage in their own operations.
Food Surplus and Waste Champion Ben Elliot said:
It's truly time to Stand Up For Food – food need not be wasted. This brilliant month of action, led by WRAP, empowers every food business, ensuring that food waste is taken off the menu. To the gallant Guardians, I recommend the brilliant resources provided by WRAP, created to help tackle this very important issue.
Companies on board include Apetito, Bartlett Mitchell, BaxterStorey, Bidfood, Castell Howell, Casual Dining Group, Compass Group UK & Ireland , Deliveroo, Greene King, Lexington Catering, OCS, Olympia London, Pizza Hut Restaurants and Unilever Food Solutions.
Sector bodies and influencers include the British Beer and Pub Association, British Institute of Innkeeping, British Water, the BSI Group (British Standards Institution), the Chartered Institute of Environmental Health, the Institute of Hospitality, LACA, the Royal Academy of Culinary Arts, the Sustainable Restaurant Association, Too Good To Go, TUCO, UKHospitality, Westminster Kingsway College and Winnow.
Peter Maddox, Director of WRAP said:
Food waste usually goes unnoticed in relation to climate change, but the reality is that we won't stop temperatures rising if we fail to address the problems within the food system.

We see no place for food waste on any UK menu, and I'm confident Stand Up For Food will be a great success, and an important moment in the war on food waste.

This is the largest, most inclusive campaign we've ever undertaken with the hospitality and food service sector and key has been recruiting the Guardians to make this happen in their own businesses, and arming those people with the right resources to help. And while we focus attention on one industry in September, it's a moment too when we can all think about how we all contribute to food waste, and what we can do to limit that – it's food for thought.
For more information about 'Guardians of Grub', visit the website.