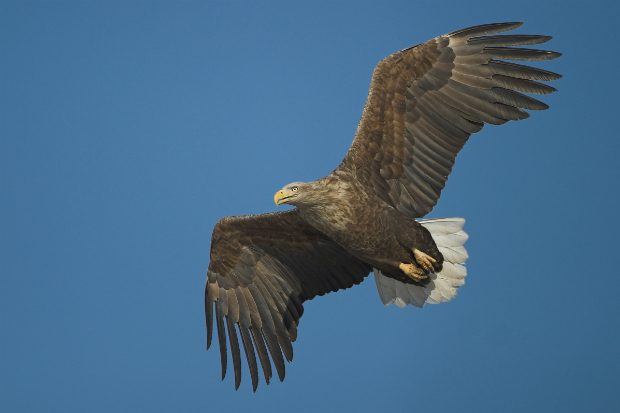 Today there has been continued national coverage of the return of white-tailed eagles to the Isle of Wight, with The Telegraph posting the first pictures of one of the birds in flight around its new home. Coverage is also picked up by BBC Countryfile, Isle of Wight Radio and BBC Farming Today as well as numerous regional titles such as Island Echo, Aberdeen Eventing Express, On the Wight, Positive news, York Press and North & Star.
The return of the birds to England comes after a 240 year absence, with the Telegraph writing each wingbeat is "marking history in the making", showing the first photos from the birds secret roost; offering an exciting glimpse of them in their natural habitat.
Likewise, the 8ft wingspan of the birds has led to them being nicknamed "flying barn doors", a moniker testament to their uniqueness in the sky.
This is only the first step in the five-year project undertaken by The Roy Dennis Wildlife Foundation and Forestry England, licensed by Natural England, with hopes to see more birds released in the coming years.
Bruce Rothnie, Forestry England's South District Forest Management Director, said:
The diversity of our wildlife is under real pressure with many species now in long-term decline. The nation's forests provide an important habitat for wildlife and are playing a critical role in supporting the successful re-establishment of many lost or threatened species.

We are immensely proud that the woodlands we manage on the Isle of Wight and surrounding South Coast are now home to these incredibly rare birds as they return to England's coastline.
Further updates are planned at a later stage and there is more on the journey of the white-tailed eagles from Scotland in this podcast from the Roy Dennis Wildlife Trust.