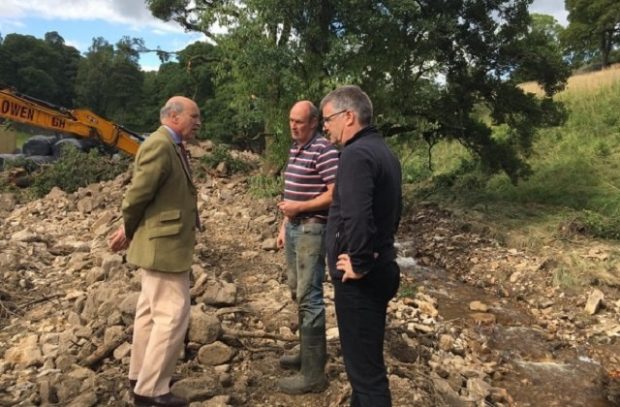 Lord Gardiner visits flood-hit Yorkshire Dales
Lord Gardiner yesterday (8 August) visited the Yorkshire Dales National Park following the recent localised flooding in the area. Lord Gardiner attended as National Parks Minister and spoke with residents, farmers and landowners affected by the flooding, along with those who work for the National Park, and individuals involved in the recovery operation.
The heavy rainfall on 30 July caused flash flooding in the Arkengarthdale, Fremington and Grinton areas of the National Park.
Lord Gardiner was shown around the area by Richmondshire District Councillor and Yorkshire Dales National Park Authority (YDNPA) Member, Richard Good, and YDNPA Chairman, Carl Lis.
Defra National Parks Minister Lord Gardiner said:
My thoughts are with the residents, farmers and business owners who have been affected by the recent flooding in the Yorkshire Dales.

The community spirit demonstrated over the past week has been truly uplifting and exemplifies all that is great about Yorkshire. I would like to express my sincere gratitude to everyone who has pulled together to support affected communities. Their action has made such a profound difference.
Funding boost for innovative businesses creating green alternatives to plastic
Today there was coverage in the Daily Mail, Sky News, Business Green and Radio Exe of the Department of Business, Energy & Industrial Strategy announcement that ten businesses developing green alternatives to plastic bottles, cosmetic beads and synthetic materials have been awarded funding to develop future-proof solutions to tackle the ocean plastics crisis. Business Minister, Lord Duncan speaking Sky News this morning about the projects stressed how innovation can support the move to achieving Net-Zero by 2050.
Businesses awarded funding include Petit Pli, which turns recycled plastic bottles into expandable clothes that grow as children age; and Naturbeads, who are working with the University of Bath to develop a biodegradable alternative to microscopic plastic beads found in cosmetics including exfoliators and toothpastes – in an effort to reduce the 30,000 tonnes of micro plastics that end up in our ocean and are ingested by sea creatures.
The UK continues to be a global leader in cracking down on plastic waste to protect seas, oceans and marine life. We have recently announced a range of measures to eliminate all avoidable plastic waste, underpinned by our landmark Resources and Waste Strategy.
Key government actions include our world-leading ban on microbeads, consulting on introducing a deposit return scheme to drive up the recycling of drinks bottles and cans, and recently confirming a ban on the supply of plastic straws, stirrers and cotton buds in April 2020. We will also introduce a new world-leading tax on plastic packaging which does not meet a minimum threshold of at least 30% recycled content from April 2022, subject to consultation, to encourage greater use of recycled plastic to tackle the problem of plastic waste and protect our environment.