New campaign launched to warn of threat of African swine fever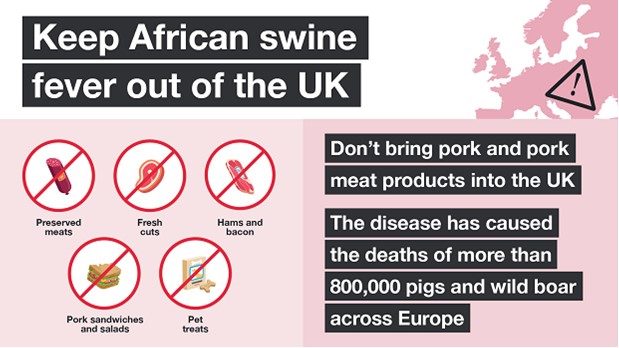 There is coverage today in the Telegraph, the Mail Online, Farming UK, the Scottish Farmer and Agriland of the government's new campaign to raise awareness of the threat of African swine fever.
The campaign aims to safeguard the UK's pork and pig industries by targeting anyone who has the potential to introduce African swine fever to the UK. Posters and TV screens, appearing in UK airports and ports throughout the summer, will raise awareness of the disease and the risks of bringing back contaminated products.
The disease has led to the deaths of over 800,000 pigs and wild boar in Europe and an estimated four million pigs in Asia, causing global pork prices to rise. If the disease was found in this country, it could have a devastating impact on the UK's commercial pig stock of five million pigs, as well as the trade of our pork products.
Lord Gardiner, Minister for Biosecurity, said:
While there has never been an outbreak of African swine fever in the UK, we are not complacent and already have robust measures in place to protect against animal disease outbreaks.

This poster campaign at UK airports and ports adds to the strict control measures we have put in place to ensure that no live pigs, wild boar or pork products from affected areas reach the UK.

It is essential all tourists and holidaymakers do not bring to the UK any pork products to protect the UK's high biosecurity.
The Chief Veterinary Officers from the UK, Scotland, Wales and Northern Ireland, said:
Keeping African swine fever out of the UK is one of our top priorities. As we have seen around the world, its impact on pig farmers and the wider pork industry has been devastating.

The virus survives incredibly well in pork meat and can survive for months in smoked, dried and cured meats and likely years in frozen meat.

That is why it is crucial that anyone travelling from affected regions takes this advice seriously in order to ensure that there is no spread of the disease to animals in the UK.
Public urged to do their bit against a damaging tree pest by Chief Plant Health Officer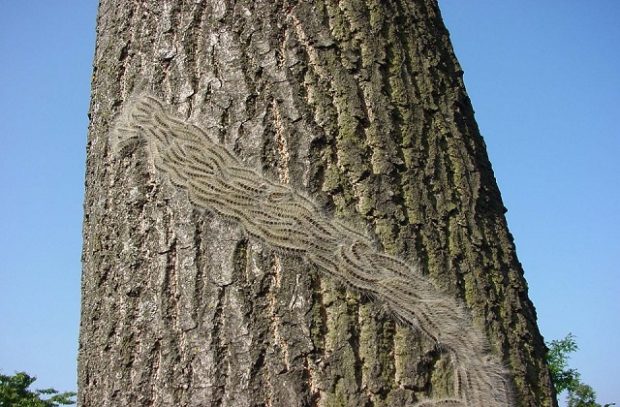 In a bid to raise awareness of the devastation to oak trees caused by oak processionary moth (OPM) the Chief Plant Health Officer, Nicola Spence, has this week been interviewed on BBC Radio 4's Farming Today and had her plea published in The Daily Telegraph as a news piece, as well as an article attributed to her.
In the last year some 60 incidents of OPM have been sighted inside Britain's protected zone, compared to just one in the previous year. In the coverage, Nicola outlines the key defining features of an OPM nest and advises the public to be vigilant and report any cases of OPM either online or over the phone.
An OPM infestation in a tree weakens it and is even a low level hazard to human and animal health, with the caterpillars' small hairs causing a mild rash and shortness of breath. In Nicola's Daily Telegraph article, she explains the implications of the OPM pest in depth, and the accompanying Daily Telegraph article provides further details to inform the public. Similarly, Nicola was interviewed by Farming Today on BBC Radio 4, where she explained how mature specimen oak trees that have been imported also present a risk of UK OPM interceptions also.
Nicola Spence, Defra Chief Plant Health Officer, said:
Members of the public and anyone working in green spaces can make a real difference by reporting any suspected oak processionary moth sightings.

We are already doing a great deal to slow the spread of this pest in areas where it is present, in and around London, and eradicate findings when they happen elsewhere.

Through our checks we have intercepted infested trees imported from other countries and introduced national legislation in 2018 to further strengthen import controls and checks.