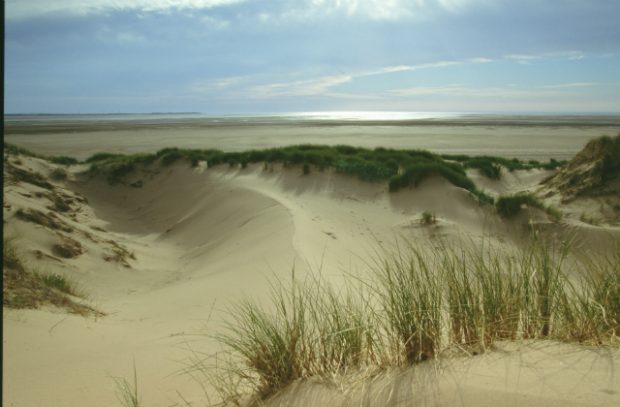 There was widespread coverage this morning in the Daily Mail, Daily Telegraph, the I and ITV News of the National Lottery Heritage Fund's announcement that £4 million has been awarded to the 'Dynamic Dunescapes' project led by Natural England in partnership with the National Trust, Plantlife, the Wildlife Trusts and Natural Resources Wales.
Sand dunes are listed as the habitat most at risk in Europe. Since 1900, the UK's sand dunes have declined by a third, climbing to nearly two-thirds in Wales. They provide sanctuary for endangered plants and animals with seventy priority species largely restricted to dune habitats including the natterjack toad, dune gentian and sand lizard.
The partnership is stepping in to save sand dunes by working with people to bring life back to them and get them thriving again – reversing a decades old approach to dune management.
Marian Spain, interim chief executive of Natural England, said:
"I am delighted to be part of this fantastic project supported by new funding from the National Lottery Heritage Fund. Sand dunes are some of our most precious landscapes, providing a home for a treasure chest of wildflowers and other species. Sadly they are also the most at-risk habitat in Europe.
"People can now enjoy a habitat they have long been encouraged to keep off. We know now that walking and playing on dunes can help create bare sand and crevices for the special wildlife that lives here to colonise. That's why we'll be inviting more people to become citizen scientists and discover the fantastic heritage at the top of the beach."
Over the next four years, the project will:
Conserve nearly 7,000 hectares of sand dunes (35% of the total in England and Wales), including natural rabbit grazing, creating dune slacks and removing invasive species.
Create a citizen science programme, including thousands of children, to help monitor wildlife and how the sand dune systems are changing.
Deliver a skills development programme for individuals and organisations. This will include sand dune management training and research projects.
Build a greater understanding and appreciation of sand dunes with people of all ages through an extensive engagement programme.
Improve access to sand dunes and, by linking the footfall from visitors with measures to reinvigorate open habitats.
Ensure learning from the project is shared across all dune managers to inform UK wide dune rejuvenation.
It will concentrate on improving the condition of nine identified dune cluster sites across England and Wales.
Follow Natural England on Twitter, and sign up for email alerts here.