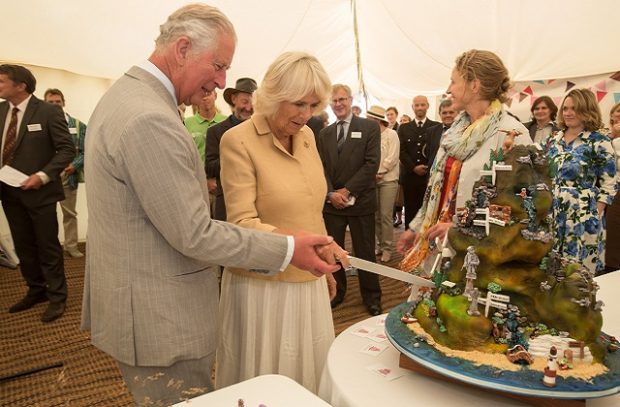 Exmoor National Park Authority hosted an event yesterday (17 July) to mark the 70th anniversary of the 1949 Act of Parliament that established UK National Parks. The story attracted coverage from national and regional outlets including Devon Live, Bridgwater Mercury and BBC News.
The Prince of Wales and Duchess of Cornwall were joined by more than 500 people for a big picnic in Exmoor's former Royal Forest. Their Royal Highnesses were greeted by UK National Park representatives, local schoolchildren, producers and craftspeople, as well as Niall Hobhouse, whose grandfather Sir Arthur Hobhouse pioneered the 1947 report that paved the way for the creation of the UK's National Parks.
Seventy years on the UK has 15 National Parks, attracting over 130 million visitor days a year, worth almost £6bn to the UK tourism economy and much more in terms of crucial ecosystem services, such as carbon storage, flood prevention, clean air and water.
Defra Minister Lord Gardiner said:
"Seventy years on from the ground-breaking legislation that paved the way for their creation, our National Parks remain some of the nation's most cherished sites.
"We owe a great debt to past generations who had the wisdom to preserve these precious landscapes – and this momentous anniversary offers an opportunity to reflect on how we can ensure that our National Parks are conserved and enhanced for generations to come."
Earlier in the week, Environment Secretary Michael Gove highlighted the importance of National Parks and Areas of Outstanding Natural Beauty, and welcomed the review, led by writer Julian Glover, which is looking at how these iconic landscapes meet our needs in the 21st century.
Speaking at Kew Gardens on Tuesday about the future of our environment, Environment Secretary Michael Gove said:
"In our 25 Year Environment Plan, we committed to restore 75% of our protected sites to favourable condition and to creating or restoring 500,000 hectares of wildlife-rich habitat in the wider landscape.
"Critical to that ambition are our National Parks and Areas of Outstanding Natural Beauty. They are homes to a startling array of wildlife. But we must do more.
"And Julian Glover's review of designed landscapes has already uncovered huge potential for these special places to provide more for all of us."