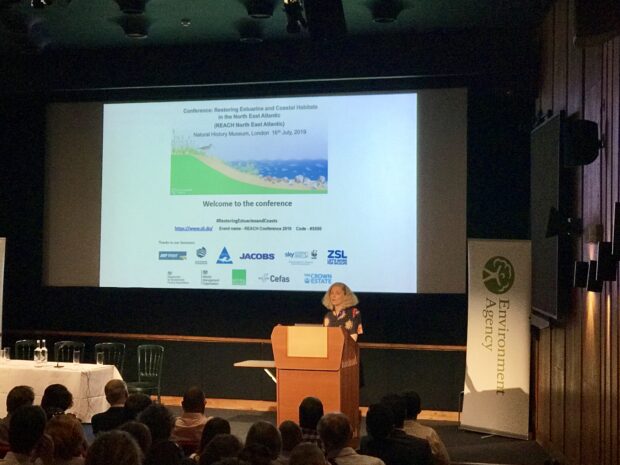 Today is our conference on Restoring Estuarine and Coastal Habitats in the North East Atlantic hosted by the Environment Agency at the Natural History Museum. It brings together 170 experts in estuarine and coastal habitat restoration and is being addressed by two keynote speakers Emma Howard Boyd, chair of the Environment Agency and Thérèse Coffey, Parliamentary Under Secretary of State at Defra and MP for Suffolk Coastal.
They will stress the importance of restoration in the face of climate change and the need to be more resilient using nature-based solutions at the coast in the face of the threat of rising sea levels and extreme weather conditions.
The conference represents the first time such a network has come together with over 80 organisations and individuals represented including government bodies, NGOs, academia and industry. With over 85% of our saltmarsh lost, 95% of our native oysters and over 50% of waters having lost their seagrass we will be seeing what more we can do collectively in collaboration, to restore the benefits we once received from these important habitats and species.
Today we will be looking at what we have lost over time and the importance of those habitats, what programmes and projects are underway to restore them and looking to the future what more can be done. We are hoping that today is the start of a collective call to action to mobilise more estuarine and coastal restoration so watch this space!