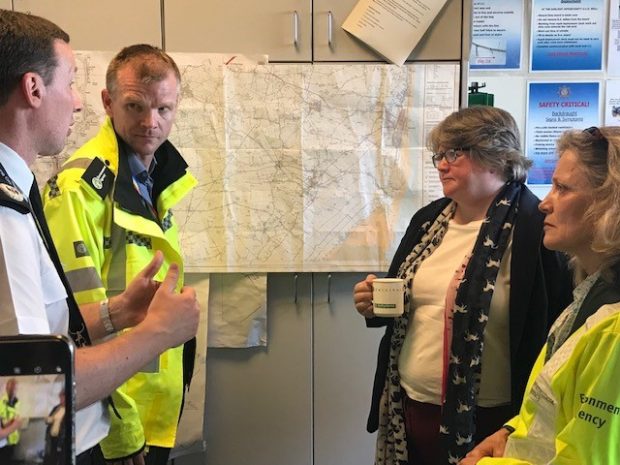 In Lincolnshire, Environment Agency staff are working 24/7 alongside the emergency services to protect people and property after a river embankment breached at Wainfleet.
In an effort to reduce flood waters, Environment Agency field teams are operating an ultra-high volume pump, capable of pump 5 Olympic-sized swimming pools' worth of water every hour away from the town. This is now reducing water levels and the repaired breach continues to hold.
The river banks were put under extraordinary pressure because of the extreme amount of rainfall that occurred – more than twice the monthly average in only a couple of days – and subsequently breached.
There has been some news reporting that breach was caused by badger damage or could have been avoided by dredging. EA has stated categorically this is not the case.
Ahead of more rain forecast tomorrow, Flooding Minister Thérèse Coffey and Environment Agency Chair Emma Howard-Boyd made a visit to the area on Monday to see the work the Environment Agency and partners are doing to keep the public safe.  Minister Coffey said: "I do believe the Environment Agency and the local authorities working with the fire and rescue service will be able to cope and I just want to encourage people to be safe in the next couple of days".
The public can check their flood risk, sign up for free flood warnings and keep up to date with the latest situation at https://www.gov.uk/check-flood-risk, call Floodline on 0345 988 1188 or follow @EnvAgency on Twitter for the latest flood updates.
If you're in the Lincolnshire area please check the Lincolnshire Police website for the latest