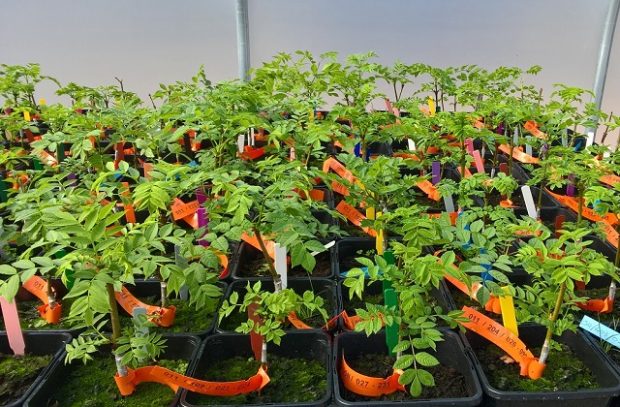 Defra's Chief Plant Health Officer, Nicola Spence, appeared on Farming Today this morning to talk about the government's new 'Ash Research Strategy' which consolidates all the evidence on ash trees and their threats to identify future research needs to protect the species and restore it to our landscape.
The strategy was launched at Wakehurst yesterday by Biosecurity Minister Lord Gardiner who announced that ash trees demonstrating tolerance to the highly destructive tree disease ash dieback will be planted in the UK's first 'ash tree archive'.
Scions collected from the trees that appear to be showing signs of tolerance to ash dieback have been grafted onto healthy rootstock and are currently growing in nurseries with the anticipation of being planted in Hampshire in 2020.
Lord Gardiner, Biosecurity Minister, said:
"Today is a day to acknowledge the sound progress that has been made and I am delighted that we are launching a Vision and High Level Strategy for Ash Research. This document lays out priority themes for research and, in the longer term, how it will deliver the restoration of our landscapes.
"Defra is already committed to funding several key research activities. Just one innovative example is the ongoing screening by Forest Research and Future Trees Trust for ash trees tolerant to ash dieback. In early 2020 the Trust will be planting an archive of tolerant trees which will be a key resource for a future breeding programme."
Nicola Spence, Defra Chief Plant Health Officer, said:
"Since ash dieback was identified in 2012, we have invested more than £6m in ash dieback research and £4.5m to strengthen border security. We curre
Young ash saplings to be planted in the UK's first 'ash tree archive'.
ntly have some of the strongest import controls in Europe.
"But we want to go even further to protect our ash trees which is why we have developed the ash research strategy, a new document which will help us determine how to ensure ash trees remain in our landscape for future generations to enjoy."