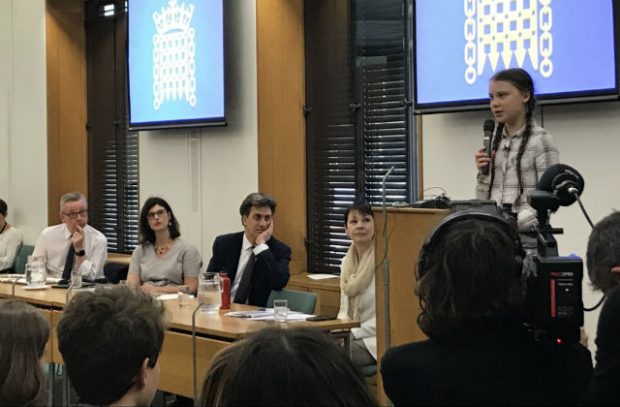 Yesterday Environment Secretary Michael Gove met influential climate change activist Greta Thunberg at an event chaired by Green MP Caroline Lucas. Thunberg's calls for urgent action to tackle climate change are covered widely in the media, including front page splashes in today's Guardian and Times.
Greta Thunberg rose to prominence when she started a school strike for the climate outside the Swedish Parliament, kick-starting the global youth climate change movement. Yesterday she stressed in a speech to MPs that more needs to be done to halt – or even slow – the climate and ecological breakdown and move to net zero emissions.
The Times leads by saying Thunberg has "inspired Britain to act on climate change", noting the Environment Secretary has promised tougher action and recognised urgent change is required.
Responding to Thunberg's speech yesterday, the Environment Secretary said:
Thanks to the leadership of Greta and others, it has become inescapable that we have to act.

Greta, your voice has been heard and we are all responsible for making sure that we listen and we respond and that we change.
The UK is a global leader in tackling climate change, going further than any other G7 nation by cutting our emissions by 40% since 1990 whilst growing our economy by two-thirds. But we recognise we need to go further – and faster.
That's why we've asked our independent climate experts for advice on a net zero emissions target and set out plans to transition to low emission vehicles and significantly reduce pollution through our Clean Air Strategy.