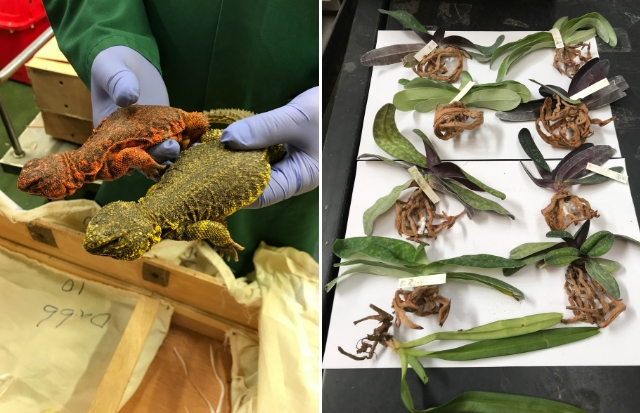 Easter Monday was also Earth Day (22 April) and there was coverage of the latest round of projects to receive funding from the Illegal Wildlife Trade (IWT) Challenge Fund.
The New Scientist reported that £4.6 million will be shared between 14 projects aimed at tackling IWT and the Independent added that £40,000 has been found for a series of education packs to teach children around the globe about the dangers of fuelling the trade in illegally traded wildlife products.
There was also international coverage on Xinhua, UrduPoint News, the US Lincoln Observer and Famagusta Gazette.
Environment Minister Thérèse Coffey said:
The illegal wildlife trade is an international tragedy. This serious organised criminal networks do more than just damage wildlife - corruption and illegal activities undermine sustainable development and the rule of law, bringing misery to local communities.

The Illegal Wildlife Trade Challenge Fund is backing projects that will tackle the criminals at source and in countries that are destinations for items made from illegally traded plants and animals.

Through the online education packs, we will make sure that younger generations understand the importance of not fuelling demand for products made from illegally traded wildlife. This will provide a strong legacy from last year's Illegal Wildlife Trade conference for schoolchildren and teachers around the world.

This is real progress to crack down on environmental crime. Working together, we can end this insidious trade.
Six months since the Duke of Cambridge and world leaders gathered in London for the biggest IWT conference in history, progress has been made at a pace around the world to tackle and end this crime.
Mark Field, Minister of State for Asia and the Pacific, said:
Six months ago we hosted the London Illegal Wildlife Trade Conference and I'm hugely encouraged by the progress that's been made so far. The UK is committed to finding new ways to combat this illicit trade through a coordinated, global response and stamping out demand for illegal wildlife products is a crucial part of this.
With support from the Department for International Development (DFID), Defra has invested a total of £23 million in the IWT Challenge Fund.
DFID pledged an extra £6 million of UK aid for the Illegal Wildlife Trade Challenge Fund before the start of the IWT conference in 2018 and further rounds for funding applications will be opened shortly for projects to bid.
Harriett Baldwin, Minister for State for International Development, said:
The Illegal Wildlife Trade conference provided renewed impetus for all of the delegates and nations attending last year. This despicable trade in endangered wildlife and plants also destroys the livelihoods of some of the world's poorest people, robbing communities of the great economic benefits of wildlife, including tourism.

UK aid will be giving life to projects whose aim is to protect these species and secure the futures for people living alongside wildlife.

This is a win for those communities and a win for animal lovers across the world. None of us want to see these majestic animals dying out.