Natural England opens eleventh stretch of England Coast Path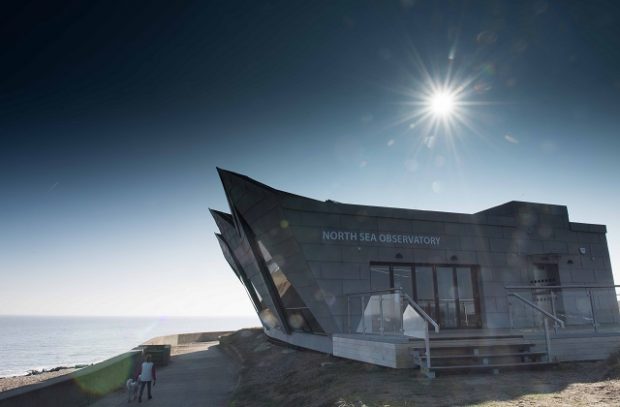 The latest stretch of the England Coast Path was yesterday (27 February) opened by Natural England, increasing access to the magnificent Lincolnshire coastline with a new 16-mile route from Skegness to Mablethorpe.
The opening has been covered by ITV1 Yorkshire East, BBC Radio Lincolnshire and the Skegness Standard among other regional coverage.
The new path will enable people to explore the route's natural and diverse wildlife that have made the area their home. The route takes into account the area's important coastal habitats, including the seascapes and unique habitats of Anderby Marsh, Chapel Pit and Wolla Bank Reedbed.
A new boardwalk at Chapel Point will also improve access to the North Sea Observatory.
Rural Minister Lord Gardiner said:
England's beautiful coastline is a sight to behold, and I am delighted that more people than ever before will be able to enjoy its striking scenery during this Year of Green Action.

With Lincolnshire home to some of our most precious coastal habitats, the new stretch of path announced today will open up access while boosting valuable tourism for rural communities and businesses.
Natural England is currently establishing a 2,700-mile path around the entire English coastline, with this week's stretch the eleventh to open. When completed, it will be the longest continuous coastal walking route in the world. It will also become a National Trail – the nation's finest and most popular long-distance paths.
Natural England Interim Chief Executive Marian Spain attended yesterday's opening at the North Sea Observatory, alongside NE deputy Chair Lord Blencathra.
Interim Chief Executive of Natural England Marian Spain said:
The England Coast Path plays a key role in helping people connect with and access nature and it is a privilege to open the first Lincolnshire stretch.

From wild dunes to sandy beaches, the public will now be able to easily enjoy the countless beautiful habitats between Skegness and Mablethorpe.
Environment Secretary discussed Deposit Return Scheme with schoolchildren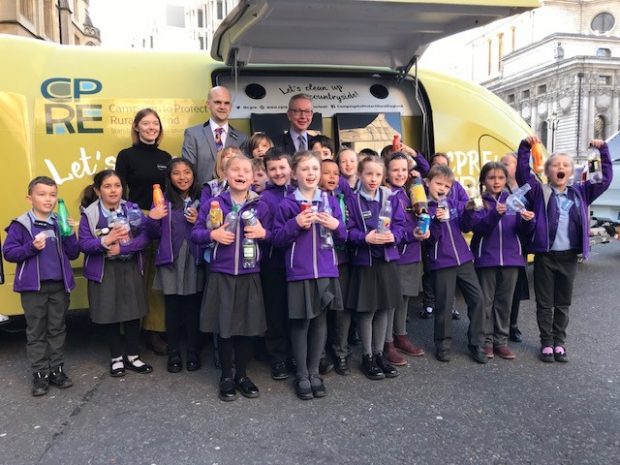 Yesterday (Wednesday), Environment Secretary Michael Gove met a group of pupils from Damers First School in Dorset, who had travelled to London to see CPRE's reverse vending machine for drinks containers. The meeting was covered in today's Yorkshire Post and a picture of Mr Gove using the machine is carried on the front of the Daily Telegraph's business section.
The school has been active in reducing its plastic waste has become a 'plastic-free school', introducing Learning Gardens and Classrooms. Working with CPRE, the children are also leading the charge in creating an eco-school and an eco-community in Poundbury, Dorset.
Three of the pupils put their questions to Mr Gove in an interview which will feature this week on BBC Newsround.
The Government is currently consulting on the introduction of a national Deposit Return Scheme and has put forward two options.
The first option, known as the 'all-in' model, would target a large amount of drinks beverages placed on the market, irrespective of size. The second option, known as the 'on-the-go' model, would restrict the drinks containers in-scope to those less than 750ml in size and sold in single format containers. This model would target drinks most often sold for consumption outside of the home (while 'on-the–go'). The children from Damers First School want to see an 'all-in' scheme.
Environment secretary Michael Gove said:
It's great to see the young people at Damers First School are being inspired during the government's Year of Green Action, and we welcome the efforts of CPRE to tackle litter and plastic waste.

Consulting on a deposit return scheme is a part of our landmark Resources and Waste Strategy, to help leave our environment in a better state than we inherited it for future generations.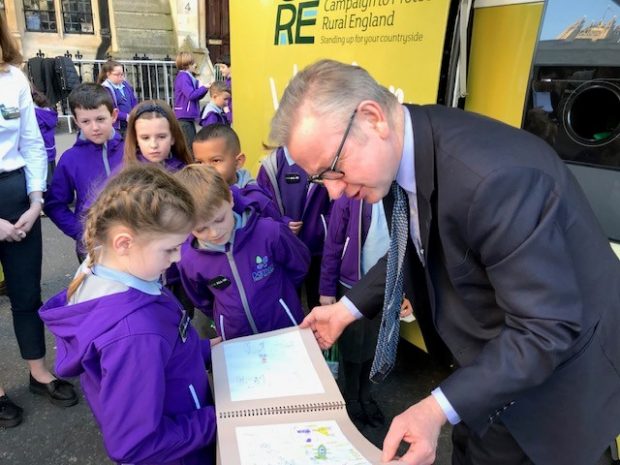 Follow Defra on Twitter, and sign up for email alerts here.