Year of Green Action ambassadors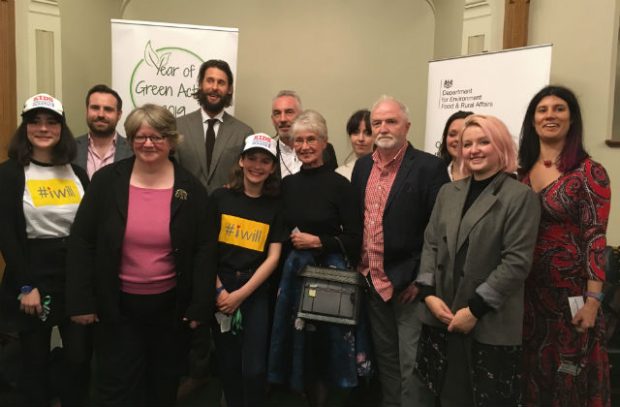 Yesterday we announced that ten leading environmentalists have been appointed ambassadors for the Year of Green Action, including UN Patron of the Oceans and endurance swimmer Lewis Pugh, environmentalist David de Rothschild and TV presenter Jan Leeming.
The Year of Green Action is a year-long drive to connect more people with the environment and raise awareness about the simple steps  everyone can take – in their home, garden, workplace or school – to make a difference to the natural world.
The ambassadors will help educate and inspire the next generation of environmental leaders and were congratulated by Environment Minister Thérèse Coffey at a parliamentary reception last night.
Environment Secretary Michael Gove said:
The natural world is our greatest asset and we all have a responsibility and role to play in protecting it for generations to come.

These new ambassadors have shown tremendous passion in their drive for environmental protection and have been tenacious in their desire to raise awareness, from swimming the length of the English Channel to sailing a recyclable boat made from reclaimed plastic bottles.

I am delighted to have them on board to champion the Year of Green Action and inspire change.
UN Patron of the Oceans Lewis Pugh said:
I have been swimming for 32 years and over that period of time, I've seen our oceans change completely. That's why I am delighted to support the Year of Green Action and help share the importance of protecting our oceans and tackling plastic pollution.

We need urgent action. Our greatest hope is that there are 66 million people in the United Kingdom. Any problem, however colossal, becomes manageable when divided by 66 million. If we all play our part, we can fix this.
Government action to improve air quality: response to Friends of the Earth analysis
There is coverage in the Times, Mail, and Mirror of data analysis by Friends of the Earth (FoE) that a number sites across England have reportedly breached the annual air quality objectives for Nitrogen Dioxide (NO2) levels.
The Times notes that Ministers have already ordered a number of councils to draw up plans to reduce air pollution.
The areas in FoE's analysis have not been identified as part of the national compliance assessment which must accord with the strict requirements set out in the Ambient Air Quality Directive.
All local authorities have a duty to assess their air quality and air quality assessments for this Local Air Quality Management (LAQM) are often carried out in a way that does not meet the Directive criteria, and these may be the data that FoE are using.
A Defra spokesperson said:
We have made significant progress in cutting air pollution in the UK since 2010, with nitrogen oxide down by 29% thanks to concerted action.

But we know there is more to do. Which is why we're already investing £3.5bn in cleaning up our air, requiring local authorities to tackle breaches of no2 limits set by legal reporting requirements and via the Environment Bill bringing forward legislation to give local government powers to take further decisive action on air pollution.
We are making nearly £500m available to support local authorities as well as individuals and business to help tackling roadside nitrogen dioxide exceedances.
Our Clean Air Strategy, which has been commended by the World Health Organisation (WHO) as an "example for the rest of the world to follow", is the most ambitious air quality strategy in a generation and aims to halve the harm to human health from air pollution in the UK by 2030.
As part of the UK's approach to improving air quality there is a plan focused on tackling roadside nitrogen dioxide exceedances that has required local authorities where there are hotspots to develop and implement actions to address these as soon as possible. This includes making nearly £500m available to support those local authorities as well as individuals and business that may be impacted by the measures.
The Road to Zero strategy sets out the Government's ambition for the UK to be the best place in the world to develop and manufacture zero emission vehicles, helping to create business opportunities, bringing jobs to the UK, and cleaning up our air.
Schools and communities receive a million free tree saplings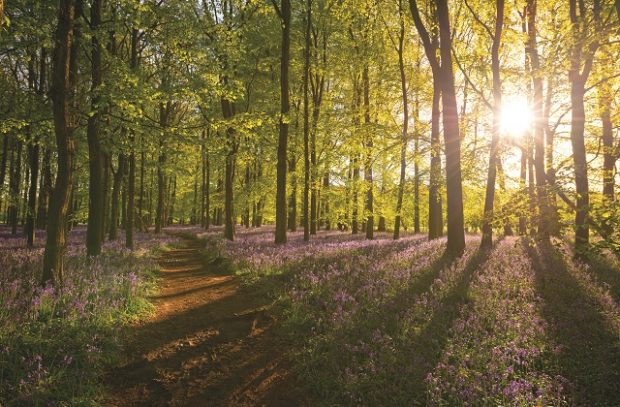 The Woodland Trust has today (February 27) announced it has given away more than a million free saplings to schools and communities, helping to grow woodland cover across the country and connect more people with nature. The story has gained regional media coverage.
Through the initiative, some 820,680 trees are being sent to 5,121 organisations in England, while 95,100 are going to 539 groups and schools in Scotland, 61,755 to 356 Welsh organisations and 33,495 to 179 communities in Northern Ireland.
Around 5.8 million trees have been sent to schools and local groups since the project began in 2010, and all the trees are UK sourced and grown.
The government is also supporting the Woodland Trust to provide 100,000 trees a year to primary schools in England over four years.
Forestry Minister David Rutley welcomed the announcement and said:
Trees and woodlands are an essential part of our landscapes and crucial to our health and wellbeing.

Through our Trees for Schools programme we're proud to support the Woodland Trust to help connect people with the natural world and plant more trees for the next generation.