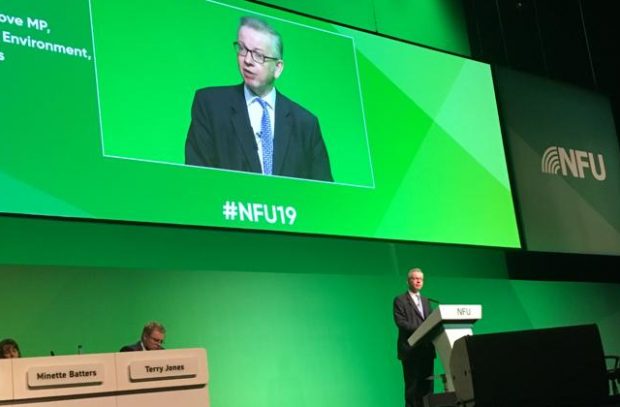 The Environment Secretary addressed farmers, landowners and other stakeholders at the annual NFU Conference in Birmingham today. Speaking alongside NFU President Minette Batters, he reiterated our commitment to maintain high standards of British food production, animal welfare and environmental standards as the UK leaves the EU.
Some of the key points raised included:
The Government is clear, from the Prime Minister down, that the UK's high standards will not be compromised in pursuit of trade deals.
There will be a more detailed announcement on tariffs shortly, but the Government will ensure the farming sector is protected from being put at a competitive disadvantage.
His continued support for the Prime Minister's Brexit deal, highlighting the need for tariff and quota-free access to the European market, and the flexibility to operate wholly outside of the EU's Common Agricultural Policy
The importance of the farming initiative Febru-dairy and his commitment to defending British livestock and dairy farmers from activists who undermine their work.
The department's close collaboration with Minette Batters, including important amendments to the Agriculture Bill and a new National Food Strategy.
The speech has been widely covered by national outlets including The Guardian, The Sun, Sky News  and the Financial Times, as well as farming trade outlets such as Farmers Weekly. The main focus has been the Environment Secretary's comments on not compromising Britain's high food standards.
The speech can be read in full here.