Environment Agency action to tackle waste crime shown on BBC One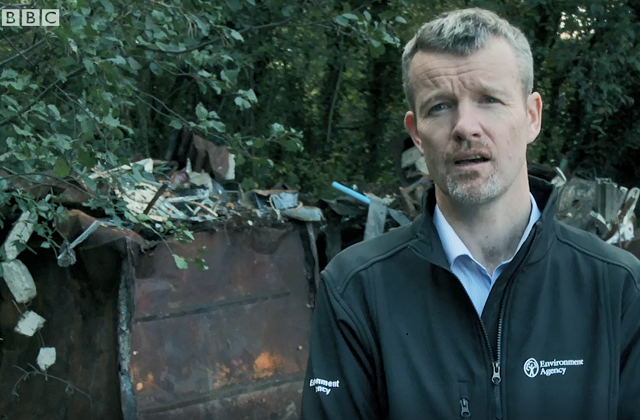 Over the last few weeks, BBC documentary Defenders UK looked at the Environment Agency's record prosecution of Thames Water, prosecution of Tesco over a water pollution case, and prosecution of a coach company which emptied raw toilet waste into public drains.
A fourth successful Environment Agency prosecution was featured on the programme on Saturday, this time looking at the case of Edward Donovan who dumped 2,000 tons of rubbish in the Devon countryside, before setting fire to it.
The programme included interviews with investigating officer Adrian Evans and the EA's Executive Director of Operations, Toby Willison, who explained how Donovan actions caused serious damage to the environment and blighted the local community, leaving the elderly landowners to pick up the bill for the clean-up.
As a result of the EA's successful prosecution, Donovan was handed an 18-month jail sentence suspended for two years, banned from the waste trade for five years, and ordered to pay costs of more than £5,000.
Speaking at the time of the case, Adrian Evans said:
This case serves as an important reminder to businesses and the public to be vigilant about who they allow to remove their waste.

Waste producers should always insist on seeing evidence that waste being removed will be taken to suitably licensed or exempt facilities to be properly disposed of or recycled.