Minister Rutley visits Nestlé and Morrisons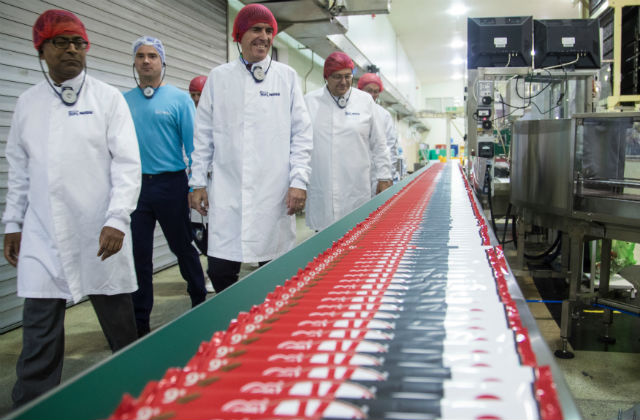 Yesterday, Food Minister David Rutley visited Nestlé's York factory and Morrison's food manufacturing site in Bradford.
During the Minister's tour of the Nestlé factory he heard about innovative product development techniques as well as staff training programmes.
In Bradford, the Minister was told about Morrison's integrated supply chain and learnt about the retailer's commitment to source local produce where possible.
Recently appointed to the food brief, Minister Rutley is making a series of visits to UK food and drink companies around the country to learn about innovation in the industry. This week's trip follows a recent visit to Tate & Lyle's original refinery in London's East End.
EAC on Defra Brexit readiness
There has been widespread coverage this morning in The Guardian, Independent and BBC online on the back of the EAC press notice highlighting concerns raised by Chair Mary Creagh about Natural England's ability to deliver on its statutory responsibilities given the number of staff that have been seconded from NE to Defra to work on Brexit preparations.
We have been consistently clear that this work is part of ongoing cross-Government efforts to reprioritise resource to ensure a smooth Brexit, but that this does not come as a cost to our existing environmental priorities. While our line is carried, the piece focuses on stakeholder reaction.
Across Government we are working hard to carry out extensive preparations ahead of the UK's departure from the European Union as is the duty of a responsible Government to prepare for a range of potential outcomes including the possibility of a 'no deal'. Staff secondments are common in the public sector, especially within the Defra group, and do not impact Natural England's ability to protecting our natural spaces and wildlife.
When identifying candidates for secondment, consideration was given to ensuring the potential impact on Natural England KPIs was minimised. Any 18/19 commitments related to SSSIs will be taken forward by remaining staff within the organisation.
We provided the following statement making these points.
A Defra Group spokesperson said:
Over 80% of Defra's agenda is affected by Brexit and as a result a number of staff from across the Defra group are now supporting our comprehensive programme of work.

However, we are clear this must not impact our commitment to protecting our environment and the vital work of Natural England in protecting our natural spaces and wildlife.