New flood defence for Salford includes wetland habitat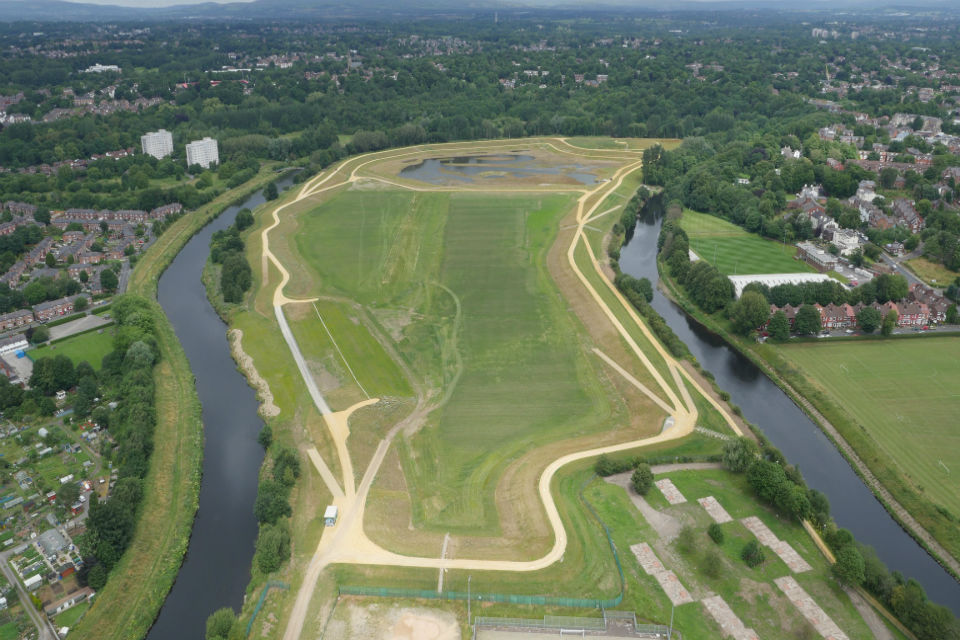 As reported in The Sun, Lancashire Evening Telegraph and Northern Echo, the Environment Agency has today opened a new £10million flood defence in Salford that will reduce the risk of flooding to 2,000 homes and businesses.
The opening marks World Wetlands Day, with a focus on urban wetlands and the benefits they have for cities. The Salford scheme includes 5 hectares of urban wetland which will not only help reduce the risk of flooding from the River Irwell, but will boost local wildlife - and give nature-lovers access to a new footpath and beautiful scenery.
The new Salford flood basin can hold more than 250 Olympic-sized swimming pools' worth of water. Its embankments are covered with wildflower habitat to attract pollinators like bees, butterflies, moths and ladybirds.
Thousands of properties that were affected in the Boxing Day floods of 2015 will be better protected from flooding now that the defence is complete. The scheme will also benefit the local economy by supporting Salford Council's regeneration plans – it will enable development in areas previously not viable.
Emma Howard Boyd, Chair of the Environment Agency, said:
The £10million Salford flood scheme will reduce flood risk to almost 2,000 homes and businesses. In addition, we have created more than 5 hectares of urban wetland, bringing attractive landscapes for people and wildlife.

People in the area can also enjoy a new footpath around the site and links to existing footpaths that now provide a green route to and from the centre of Manchester. This excellent partnership project is a fine example of the multiple benefits our work brings to the local community.
It's just one of the projects the Environment Agency is working on to create and restore wetland habitat across the country.
You can read more about the EA's work on the Environment Agency blog.
Natural Capital Committee
This morning, the Today Programme covered comments from the Natural Capital Committee (NCC) on our 25-Year Environment Plan, suggesting the plan needs to be backed up with legislation if it is going to be effective. The NCC is an independent committee which advises on the value of natural assets to society, and it provided a key role during the formation of this plan.
Our statement wasn't carried in the coverage but, as we have already said, we will consult on plans to create a new statutory body to enforce environmental standards – and by definition that will require legislation.
Furthermore, we have been clear that we will always legislate when needed – our microbeads ban and 5p plastic bag charge have been huge successes – and, importantly, we also work with industry and invest in research and innovation to drive change.
A Defra spokesperson said:
Our 25-Year Environment Plan sets out how we will be the first generation to leave the environment in a better state than we inherited it, and we welcome the role the Natural Capital Committee has played in its development.

We have always been clear we will not lower environmental standards as we deliver a Green Brexit, and we have already committed to setting up an independent statutory body to advise and hold the government to account.

By definition this will require legislation, and we will shortly consult on this body's functions and powers, including its role in relation to the 25-Year Environment Plan.