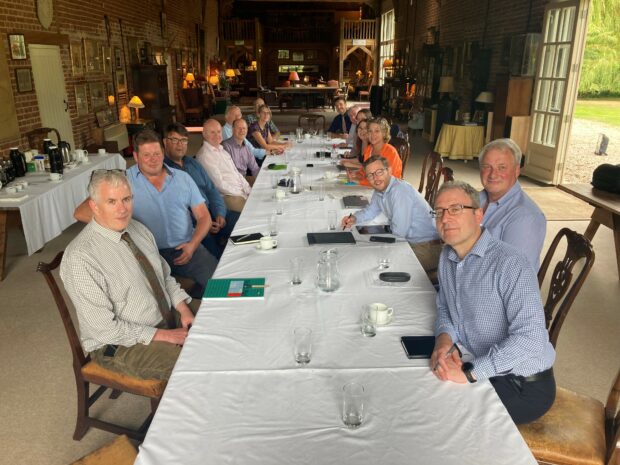 Water Minister Rebecca Pow has stressed the need for the agricultural sector to build water resilience in the face of climate change whilst meeting farmers in North Norfolk on Friday (11 August).
Hosting a roundtable with local farming and wildlife groups, the Minister discussed the Government's multi-faceted approach to water resilience in the region, which will help ensure a clean and plentiful supply of water now and into the future.
Water Minister Rebecca Pow said:
Drought conditions over the last year have been difficult for farmers and local wildlife in North Norfolk and last week's meeting was important to hear first-hand from primary producers and environmental partners – particularly as the challenges surrounding water security continue to grow.

Through our Plan for Water, we are funding more on-farm reservoirs and better irrigation equipment for farmers, securing significant investment in our water resilience, and are ensuring key water supply infrastructure can be built more quickly.

Last week's meeting highlighted the need for every sector to think about their water requirements for the future; and the need for collaboration both regionally and at catchment level on infrastructure needs.
Initiatives through the Government's Plan for Water include:
A second round of the £10 million Water Management Grant to fund more on-farm reservoirs and better irrigation equipment.
A twin-track approach to improving water resilience, involving action to reduce water company leaks alongside investing in new supply infrastructure, including transfers.
Abstraction license decisions will become more flexible to support the changing needs of farmers, the economy and the environment in the context of climate change.
Improvements in water resources planning for agriculture to help farmers consider future needs and ensure better resilience to drought.
Modernising the abstraction system using technology to make processes more efficient, for example sending e-alerts to provide speedier notifications directly to farmers when water is available for abstraction.
On 8 June, the Government also announced over £30 million under the Farming Equipment and Technology Fund, which is helping pay for equipment such as rainwater harvesting butts to help tackle water scarcity.
The visit followed the UK Farm to Fork Summit, which brought together representatives from the whole food supply chain – including farmers, producers and retailers – to discuss ways that government and industry can work together to boost growth, drive innovation and improve sustainability.