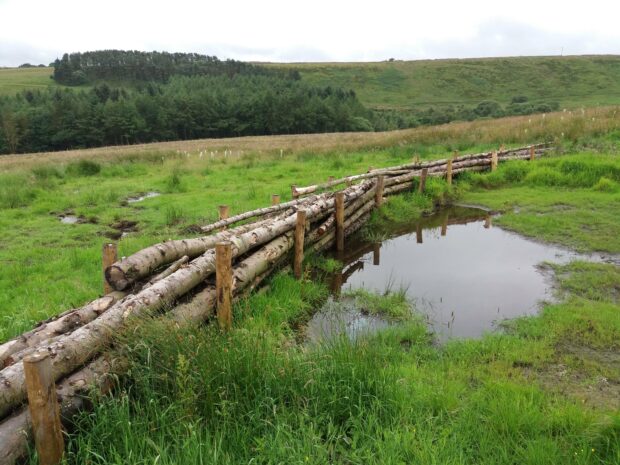 There is coverage in the Guardian of a new report published by the Environment Agency which evaluates the impact of our national Natural Flood Management Programme.
The programme, which received £15 million of government funding, including benefits to communities and to biodiversity alongside protecting homes and businesses from floods.
Across 60 pilot projects the programme created an equivalent of 1.6 million cubic metres of water storage and increased flood resilience to 15,000 homes. In addition, the programme contributed to nature recovery: improving 4,000 hectares of habitat, improving 610 kilometres of river and planting 100 hectares of woodland.
Following the publication of the report, EA Chief Executive Sir James Bevan set out how Natural Flood Management must be a core part of the nation's defence against flooding and climate change.
Sir James Bevan said:
The warning signs of the climate crisis are stark – and sadly devastating flooding is likely to become a more familiar sight over the next century.

As we prepare for more extreme weather events, we must use every weapon in our armoury and Natural Flood Management will play an essential role in this.

By harnessing the power of nature alongside our traditional flood defences, we can not only help keep communities safer, but also create wildlife havens and tackle the climate emergency.
Environment Minister Rebecca Pow said:
We know that flooding can have a devastating impact on people's lives, homes and livelihoods. That is why we are investing a record £5.2 billion in flood and coastal defences to ensure more communities are better prepared – and nature-based solutions are a key component of this.

The additional benefits of Natural Flood Management for people and wildlife are vast - helping us reach our ambitious Net Zero targets, providing vital new habitats and creating areas of natural beauty for people to enjoy for generations to come.
Natural flood management helps to slow the flow of water across the landscape - including the re-meandering of rivers, the restoration of wetlands and targeted woodland planting.
NFM measures include planting trees and hedges to absorb more water, creating leaky barriers to slow water flow in streams and ditches and restoring salt marshes, mudflats, and peat bogs.